Catalog
Order the Catalog printed on genuine paper for $2.
Add to Cart
Digging Dog Nursery
a retail and mail order plant nursery specializing in unusual and hard to find perennials, ornamental grasses, shrubs, trees, and vines.
31101 Middle Ridge Rd.
Albion, CA 95410
phone:
(707) 937-1130
fax:
(707) 937-2480
Visit Us!
Summer Hours:
Wednesday–Saturday: 10am–4pm
Lysimachia (Loosestrife)
at Digging Dog
Including Lysimachia clethroides, and Lysimachia nummularia 'Aurea'

Lysimachia
Loosestrife
According to William Cole's Art of Simpling (1656), Loosestrife prevents oxen from fighting. Some say the name derives from a Greek word meaning "to dissolve strife." What we could debate is whether form follows function, or vice versa, because this showy group is as hardy as it is attractive.
Some species are tall, others are low, but all are vigorous and easy to grow—so let them loose in cool, moist locations such as woodlands, bogs or waterside meadows. A varied group, each offers a unique foliage form.
Gooseneck Loosestrife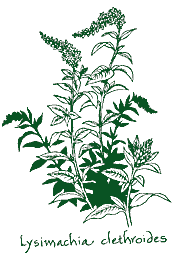 Racemes arching like shooting stars, bursting into soft white flowers against a deep green galaxy of foliage, make graceful, upright Gooseneck the jewel of the woodland setting. It's a toss-up between growing it for flowers or foliage, but either way, it's a winner.
Blooms July–September.
Size: 3' 0"–4' 0" high & spreading; hardy to zone 4.
Lysimachia clethroides (P-0102)
Each $8.00
Add to Cart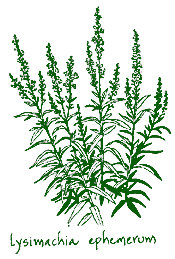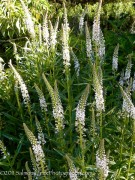 Lofty, narrow spikes of pearly white starlike flowers grace this hard-to-find European species. Non-invasive Lysimachia ephemerum grows in a clump, rather than spreading by runners like its more aggressive cousins. Joined at the base around sturdy, upright stems, the glaucous gray-green leaves are opposite and lanceolate in shape. An intriguing flower for arrangements, this Lysimachia's soothing colors are a gentle match for Thalictrum flavum ssp. glaucum.
Blooms August–September.
Size: 4' 0"–5' 0" high x 18" wide; hardy to zone 6.
Lysimachia ephemerum (P-0103)
SOLD OUT!
Email me when this plant is available
Golden Creeping Jenny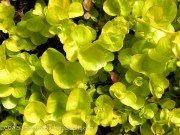 Native to Europe and Russia, Golden Creeping Jenny has naturalized in North America. Bearing tiny, bright yellow flowers, it creates a striking understory of round, golden foliage and, if planted at the edge of a pond, will reach into the water like rays of sunlight. For stunning contrast, place near plants with purple foliage.
Blooms April–September.
Size: 2" high & spreading; hardy to zone 5.
Lysimachia nummularia 'Aurea' (P-0545)
Each $7.75
Add to Cart
Saturday Strolls & Plant Chats 2018!
Saturdays at 2 p.m. July 14th and 28th, August 18th, and September 15th. Stroll with Horticulturalist Deborah Whigham, sip iced tea, nibble on tasty snacks & take home helpful gardening tips & tricks!
Current Staff's Favorite Plant