Lobelia (Cardinal Flower)
at Digging Dog
Including Lobelia laxiflora, and Lobelia tupa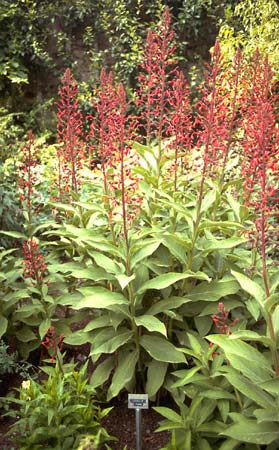 Lobelia
Cardinal Flower
In the dog days of August, just when the border is not looking so lively, this genus of colorful, stately selections rejuvenates the garden with spectacular leafy flowering spires, attracting crowds of eager hummingbirds. Perfect in meadow plantings, these sturdy herbaceous perennials appreciate a well drained site, a light winter mulching, rich, moist soils and partial shade in warm climates, except for Lobelia tupa and Lobelia laxiflora, which like it hot and on the dry side.
View a slideshow of plant images from this genus
Cardinal Flower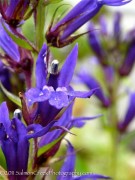 Have you grown weary of Lobelias, whose lovely blooms reside above a rather untidy base? If so, you may be interested in Dan Heim's brilliant solution to this age-old challenge—a small-statured L. cardinalis and L. syphilitic backcross, known as 'Grape Knee-Hi'. Painted with vibrant deep purple hues, the long lasting and freely flowering, tightset spikes crown upright stalks and good-looking compact foliage that stands on its own all season long.
Blooms July-August
Size: 2' 0" high x 15" wide; hardy to zone 6.
Lobelia 'Grape Knee-Hi' (P-1190)
SOLD OUT!
Email me when this plant is available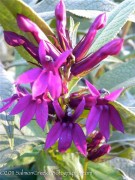 We have Thurman Maness to thank for this lovely cultivar, another cross between Lobelia cardinalis and Lobelia siphilitica. A dense tower of dusky plum flowers creates a pleasing blend of muted purples when planted with Verbena hastata and Astrantia 'Lars'.
Blooms August–early October.
Size: 2-1/2'–3' 0" high x 18" wide; hardy to zone 4.
Lobelia 'La Fresco' (P-0765)
SOLD OUT!
Email me when this plant is available
Mexican Lobelia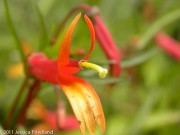 A lush-looking, bushy perennial capable of enduring considerable neglect, this impressive Lobelia plays host to festive bicolored blooms. Spreading by underground rhizomes, a close thicket of slender, yet sturdy, red-tinted stems strikingly set off narrow and lustrous, pointed green leaves that extend 2 to 4 in. Slim, 2 in. long red tubes are loosely clustered at shoot tips, while each bright-hued flower flares to reveal a sunny yellow throat.
Hailing from Arizona and Mexico, the Mexican Lobelia entices gardeners and hummingbirds alike with nectar-rich blossoms, can tolerate some shade, but looks its best in sunny, dry sites and has been reputed to possess anti-inflammatory alkaloids.
Blooms June–September.
Size: 2' 0"–2-1/2' high x 2' 0"–3' 0" wide; hardy to zone 8.
Lobelia laxiflora (P-1298)
Each $7.75
Add to Cart
Dressed in a crisp snowy white, the profusely flowered tapers of this Lobelia stand in sharp relief to its dark green foliage. A newly selected form of our U.S. native, 'White Candles's small, compact stature keeps its lift all season, lending a clean and classic look, especially when partnered with Geranium 'Orion'.
Blooms July–August.
Size: 18"–20" high x 18" wide; hardy to zone 5.
Lobelia siphilitica 'White Candles' (P-1237)
SOLD OUT!
Email me when this plant is available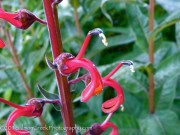 The lushly tropical color scheme of this somewhat tender Chilean native is alluring. Cloaked in broad and pointed, pale green, felted foliage, each soaring, purple-tinged stem is crowned with a large, tapering raceme of warm, brick-red blossoms. From the swollen base of each flower, a clawlike lower lip curls under and a tuft of gray stamens extends upward.
A perennial of nearly monumental stature, associate Lobelia tupa with Melianthus, Muhlenbergia and Morina longifolia for a dynamic melange of color and shape in the border.
Blooms July–October.
Size: 6' 0"–8' 0" high x 3' 0"–4' 0" wide; hardy to zone 8.
Lobelia tupa (P-1119)
Each $8.75
Add to Cart
Saturday Strolls & Plant Chats 2018!
Saturdays at 2 p.m. July 14th and 28th, August 18th, and September 15th. Stroll with Horticulturalist Deborah Whigham, sip iced tea, nibble on tasty snacks & take home helpful gardening tips & tricks!
Current Staff's Favorite Plant