Catalog
Order the Catalog printed on genuine paper for $2.
Add to Cart
Digging Dog Nursery
a retail and mail order plant nursery specializing in unusual and hard to find perennials, ornamental grasses, shrubs, trees, and vines.
31101 Middle Ridge Rd.
Albion, CA 95410
phone:
(707) 937-1130
fax:
(707) 937-2480
Visit Us!
Summer Hours:
Wednesday–Saturday: 10am–4pm
Ligularia
at Digging Dog
Including Ligularia stenocephala 'The Rocket'

Ligularia
This moisture-loving member of the Asteraceae family is native to most of eastern Asia and named for its "tongue-shaped" leaves. Whether planted as a specimen or en masse in a semishaded border, on the forest's edge or by water, Ligularia will dazzle onlookers with its lush foliage and showy flowers
The scrumptious and bold gathering of huge kidney-shaped coarsely toothed leaves, each spanning over a foot across, adopts a swank dark chocolaty maroon polish. Manifesting purple undersides, the lavish foliage needs morning sun to retain its rich coloration, otherwise they turn more green as summer progresses. Hefty purplish black stems hoist daring golden orange daisy-like flowers about a foot aloft the lush leafy foundation. This tropical-looking 'Othello' sport emphasizes extraordinary texture, thwarts those pesky deer and luxuriates in cool moist recesses with shelter from hot afternoon sun. (PP#16,113)
Blooms July–August
Size: 3' 0" high x 2' 0"–3' 0" wide; hardy to zone 4.
Ligularia dentata 'Britt-Marie Crawford' (P-1940)
SOLD OUT!
Email me when this plant is available
Stately yellow flower spikes on slender black stems tower above the handsome, palmately cut, dark green foliage of this elegant Chinese native. Impressive yet undemanding, try planting it with Aruncus 'Zweiweltenkind'.
Blooms July–August.
Size: 5' 0"–6' 0" high x 3' 0" wide; hardy to zone 5.
Ligularia przewalskii (P-0155)
SOLD OUT!
Email me when this plant is available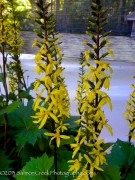 While stenocephala refers to the "narrow-headed flower," 'The Rocket' sums up even better the form of this Ligularia, as well as the charged energy it inspires. The large leaves are kelly-green, heart-shaped, and feature coarsely serrated margins. Strong shoots emerge in the spring, which unfurl to create an underlayer of verdant leaves for the clear yellow racemes to blast through on their way to altitudes of 5 ft. Striking and easily grown, it will sparkle in a wooded setting with Rodgersia nearby, or at water's edge.
Blooms July–August.
Size: 5' 0" high x 3' 0" wide; hardy to zone 5.
Ligularia stenocephala 'The Rocket' (P-0101)
Each $7.75
Add to Cart
Garden Conservancy Open Day at Digging Dog!
Saturday, June 23 - 10 a.m. to 5 p.m. Digging Deeper Ė Join Patricia Smyth, owner of Essence of the Tree, for a Japanese maple container demonstration. Enjoy a guided tour of the Private Gardens of Deborah Whigham and Gary Ratway, adjacent to Digging Dog Nursery in Albion, CA; free with $7.00 garden admission. Tickets are available via
this link
or at Digging Dog Nursery. Plant shopping welcome!
Mendocino Art Center (MAC) Garden Tour!
Saturday, June 30 - 10 a.m. to 5 p.m. We welcome you to join us in support of The Mendocino Art Center for this fabulous garden tour and fundraiser. Tickets are available through the MACís website.
Saturday Strolls & Plant Chats 2018!
Saturdays at 2 p.m. July 14th and 28th, August 18th, and September 15th. Stroll with Horticulturalist Deborah Whigham, sip iced tea, nibble on tasty snacks & take home helpful gardening tips & tricks!
Current Staff's Favorite Plant