Catalog
Order the Catalog printed on genuine paper for $2.
Add to Cart
Digging Dog Nursery
a retail and mail order plant nursery specializing in unusual and hard to find perennials, ornamental grasses, shrubs, trees, and vines.
31101 Middle Ridge Rd.
Albion, CA 95410
phone:
(707) 937-1130
fax:
(707) 937-2480
Visit Us!
Summer Hours:
Wednesday–Saturday: 10am–4pm
Leycesteria (Himalayan Honeysuckle)
at Digging Dog
Including Leycesteria formosa, and Leycesteria formosa 'Golden Lanterns'

Leycesteria
Himalayan Honeysuckle
Cherished by birds and gardeners alike, these deciduous, hollow-stemmed Himalayan shrubs bestow a long lasting floral and berry spectacle that extends until frost. Undemanding in any fertile soil, Leycesteria's tall stalks appreciate an extra thick layer of winter mulch in colder climates, where they may die to the ground, but will rapidly leap skyward in the spring.
View a slideshow of plant images from this genus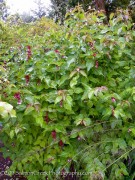 This Nepalese woodland shrub is adorned first with clusters of white-tipped, tubular pink flowers surrounded by beet red bracts. Later, its fruit matures into shiny chocolate- brown berries that taste like caramel-flavored raisins. Its pointed, heart-shaped leaves extend stiffly from bamboolike, sea-green stems. We plant it as a specimen next to walkways so that we can enjoy the colorful details.
Blooms August – October.
Size: 6' 0" high x 4' 0" wide; hardy to zone 7.
Leycesteria formosa (S-0274)
Each $9.50
Add to Cart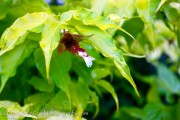 A newly introduced English cultivar, 'Golden Lanterns' has the same tantalizing attributes as the species but with an illuminated twist. Dark burgundy bracts and berries become intriguing counterpoints to amber-tinted new growth and the lambent yellow-green foliage that promises to brighten your daytime, or even moonlight garden stroll. (PPAF).
Blooms late July–October.
Size: 4' 0"–6' 0" high x 4' 0" wide. 6/7
Leycesteria formosa 'Golden Lanterns' (S-0609)
Each $10.00
Add to Cart
Garden Conservancy Open Day at Digging Dog!
Saturday, June 23 - 10 a.m. to 5 p.m. Digging Deeper Ė Join Patricia Smyth, owner of Essence of the Tree, for a Japanese maple container demonstration. Enjoy a guided tour of the Private Gardens of Deborah Whigham and Gary Ratway, adjacent to Digging Dog Nursery in Albion, CA; free with $7.00 garden admission. Tickets are available via
this link
or at Digging Dog Nursery. Plant shopping welcome!
Mendocino Art Center (MAC) Garden Tour!
Saturday, June 30 - 10 a.m. to 5 p.m. We welcome you to join us in support of The Mendocino Art Center for this fabulous garden tour and fundraiser. Tickets are available through the MACís website.
Saturday Strolls & Plant Chats 2018!
Saturdays at 2 p.m. July 14th and 28th, August 18th, and September 15th. Stroll with Horticulturalist Deborah Whigham, sip iced tea, nibble on tasty snacks & take home helpful gardening tips & tricks!
Current Staff's Favorite Plant