Catalog
Order the Catalog printed on genuine paper for $2.
Add to Cart
Digging Dog Nursery
a retail and mail order plant nursery specializing in unusual and hard to find perennials, ornamental grasses, shrubs, trees, and vines.
31101 Middle Ridge Rd.
Albion, CA 95410
phone:
(707) 937-1130
fax:
(707) 937-2480
Visit Us!
Summer Hours:
Wednesday–Saturday: 10am–4pm
Hypericum (St. John´s Wort)
at Digging Dog
Including Hypericum androsaemum, Hypericum frondosum, Hypericum inodorum Hypearl™, Hypericum kalmianum, and Hypericum kouytchense

Hypericum
St. John´s Wort
View a slideshow of plant images from this genus
Tutsan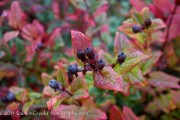 Native to western Europe and North Africa, this handsome species' common name comes from toute-saine (heal-all) and refers to the many healing properties the plant was once supposed to possess. Interesting throughout the year, Tutsan is a cure-all for lightly shaded garden areas that need some brightening up. The wine-infused stems and deep green foliage contrast beautifully with cheerful golden yellow flowers in summer, and later with glossy red berries, which eventually turn black. The weight of the fruit causes the branches to arch, giving the plant a relaxed look and making it perfect for shrubby borders.
Tutsan also does well in the sun, planted with Lavenders. In late summer, its colors make a striking combination with Nepeta 'Wild Cat' and Buddleja 'Ellen's Blue'.
Blooms June–early August.
Size: 4' 0" high x 4' 0" wide; hardy to zone 6.
Hypericum androsaemum (S-0182)
Each $9.75
Add to Cart
In an ebullient "sunburst," large 3 in. wide yellow petals cushion a spry central cluster of stamens that look like orange powder puffs. Dense stout branches plus oblong curvy leaves with soothing glaucous blue hues shape a compact round mound, revealing narrow reddish brown seed capsules through autumn and exfoliating purplish brown bark for winter appeal. Indigenous to our South-eastern limestone glades, this tailored semievergreen Hypericum can be massed or sited singularly in the mixed border where it triumphs over dry compacted soil and clay.
Blooms June-August
Size: 3' 0"–4' 0" high x 3' 0"–4' 0" wide; hardy to zone 5.
Hypericum frondosum 'Sunburst' (S-0672)
Each $9.75
Add to Cart
Enticing butterflies, florists and all who behold it, this newly introduced compact shrub makes an ebullient statement. The resilient well-branched frame is characterized by sturdy upright red-tinged stems and comely medium green foliage that remains evergreen during mild winters. Hosting big round golden buds, decorative pale green calyces, flashy yellow starbursts of bloom with prominent stamens plus plump, bright red berries, 'Compact Red' keeps us mesmerized for months. Acquiescent to sunny sites, it's tailor-made for gardens short on space, mixed borders or patio containers.
Blooms June–mid September
Size: 18"–2' 0" high x 18"–2' 0" wide; hardy to zone 6.
Hypericum inodorum Hypearl™ 'Compact Red' (S-0828)
Each $9.75
Add to Cart
Selected from our native American species, this exciting relatively new Danish cultivar premiers droves of small yet radiant yellow blooms with dense showy stamens, resembling miniature golden starbursts. Handsome bright green willow-shaped foliage and close-knit branches craft a neat bushy shrub that can be utilized as a low informal hedge or a stylish mounding ground cover. Small growing, sturdy and reliable, 'Gemo' delivers ample doses of flowery good cheer for months at a time followed by decorative pointed seed pods for added intrigue, while Geranium 'Walküre' and Aster divaricatus make worthy companions
Blooms June – September.
Size: 2' 0"–3' 0" high x 2' 0"–3' 0" wide; hardy to zone 5.
Hypericum kalmianum 'Gemo' (S-0775)
Each $9.75
Add to Cart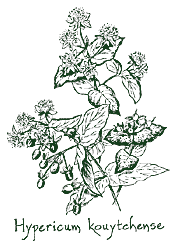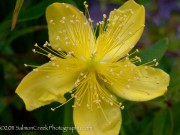 This truly elegant Hypericum is covered with an abundance of large, bright yellow, pointed buds, followed by golden yellow flowers whose prominent long stamens seem to sparkle. Against a background of smooth blue-hued leaves, the bright red berries and starlike calyxes make a colorful late season display. Though deciduous elsewhere, along our coast the aromatic leaves fill the garden with their scent all year round.
Blooms June–September.
Size: 3' 0" high x 2' 0" wide; hardy to zone 5.
Hypericum kouytchense (S-0417)
Each $9.50
Add to Cart
Saturday Strolls & Plant Chats 2018!
Saturdays at 2 p.m. July 14th and 28th, August 18th, and September 15th. Stroll with Horticulturalist Deborah Whigham, sip iced tea, nibble on tasty snacks & take home helpful gardening tips & tricks!
Current Staff's Favorite Plant