Catalog
Order the Catalog printed on genuine paper for $2.
Add to Cart
Digging Dog Nursery
a retail and mail order plant nursery specializing in unusual and hard to find perennials, ornamental grasses, shrubs, trees, and vines.
31101 Middle Ridge Rd.
Albion, CA 95410
phone:
(707) 937-1130
fax:
(707) 937-2480
Visit Us!
Summer Hours:
Wednesday–Saturday: 10am–4pm
Hebe
at Digging Dog
Including Hebe pimeleoides 'Quicksilver', and Hebe recurva

Hebe
Once you get to know this eternally appealing genus, it is easy to see why it was named after the Greek goddess Hebe who symbolized youth and immortality. With trim, tidy habits that convey a chipper attitude, our evergreen selections hail from New Zealand, serving up an irresistible dose of small dapper leaves aligned in alternating pairs all year long, and from summer until fall slender tapered racemes borne at foliar axils. Indispensable for seashore gardens, these former members of the Veronica genus make top-notch container plants in colder climates, appreciate a light spring shearing and can handle wind, some drought and sunshine galore.

A pint-sized gem tailor-made for a small spot, 'Champagne' offers neatly arranged, tiny slender leaves in deep olive-green and purple hues dramatically set off by wine-colored stems, and quantities of white spikey blooms tinged with mauve.
This handsome Hebe quickly fashions a low spreading frost hardy ground cover that guarantees year-round appeal whether it's positioned in the rockery, in a container or clipped as a small hedge.
Blooms August–early November.
Size: 2' 0" high x 3' 0" wide; hardy to zone 8.
Hebe 'Champagne' (S-0622)
SOLD OUT!
Email me when this plant is available
Known as the Boxwood imposter, this strong growing, compact Hebe is the perfect choice for hedging or topiary. Shoot tips and small, stiff pointed green leaves show off polished yellow-tinged hues while densely clasping light, sunny green stems. If left unclipped, it still looks impeccably ordered, forming a perfect little bun that occasionally cuts loose with white tapered blooms unfurling from green buds.
Blooms May–June.
Size: 20" high x 2-1/2' wide; hardy to zone 8.
Hebe odora 'New Zealand Gold' (S-0630)
SOLD OUT!
Email me when this plant is available
Indigenous to New Zealand, this sprawling, easy-to-grow evergreen shrublet is full of charm. Prized by florists, its smooth, arching and lengthy black stems seem to sparkle with small, silvery blue-green leaves that are neatly arranged in closely set, opposite pairs. Featuring a wiry demeanor, unique colors, and in summertime, pale lilac flowers, 'Quicksilver' adds an inspired contrast to Thymus 'Pink Chintz' and Miscanthus 'Little Kitten'.
Blooms June-July
Size: 12" high x 2' 0"–3' 0" wide. 7/8
Hebe pimeleoides 'Quicksilver' (S-0590)
Each $9.00
Add to Cart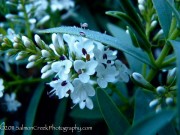 Shrouded in hushed gray-greens, Hebe recurva's rounded visage conveys its composed character. A bushy array of glaucous, sickle-shaped narrow leaves, whose tips curve downward, elegantly garbs the red-tinged, slender stems and come summer, broadcasts infinite, snowy white Veronica-like spikes. One of the hardiest Hebes, this cool-colored shrub will easily fit in any garden, and looks especially alluring when sited amid Geranium lancastriense and Helianthemum 'St. Mary's'.
Blooms June–July.
Size: 2' 0" high x 2' 0" wide; hardy to zone 8.
Hebe recurva (S-0629)
Each $9.50
Add to Cart
Garden Conservancy Open Day at Digging Dog!
Saturday, June 23 - 10 a.m. to 5 p.m. Digging Deeper – Join Patricia Smyth, owner of Essence of the Tree, for a Japanese maple container demonstration. Enjoy a guided tour of the Private Gardens of Deborah Whigham and Gary Ratway, adjacent to Digging Dog Nursery in Albion, CA; free with $7.00 garden admission. Tickets are available via
this link
or at Digging Dog Nursery. Plant shopping welcome!
Mendocino Art Center (MAC) Garden Tour!
Saturday, June 30 - 10 a.m. to 5 p.m. We welcome you to join us in support of The Mendocino Art Center for this fabulous garden tour and fundraiser. Tickets are available through the MAC's website.
Saturday Strolls & Plant Chats 2018!
Saturdays at 2 p.m. July 14th and 28th, August 18th, and September 15th. Stroll with Horticulturalist Deborah Whigham, sip iced tea, nibble on tasty snacks & take home helpful gardening tips & tricks!
Current Staff's Favorite Plant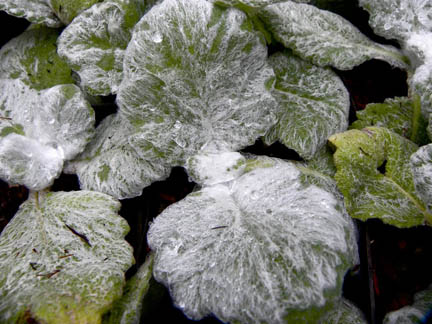 Customer Comment:
"I placed a large order & am very pleased with the experience. I chose Digging Dog because they had cultivars that I couldn't find elsewhere & were grown neonic-free. All the plants I received were strong & well-rooted. I will happily order from them again."
~Sarah in Washington
view Digging Dog's comments with Dave's Garden (The Garden Watchdog)