Hakonechloa
at Digging Dog
Including Hakonechloa varieties Sunny Delight, Nicolas, Beni-kaze, All Gold, and Aureola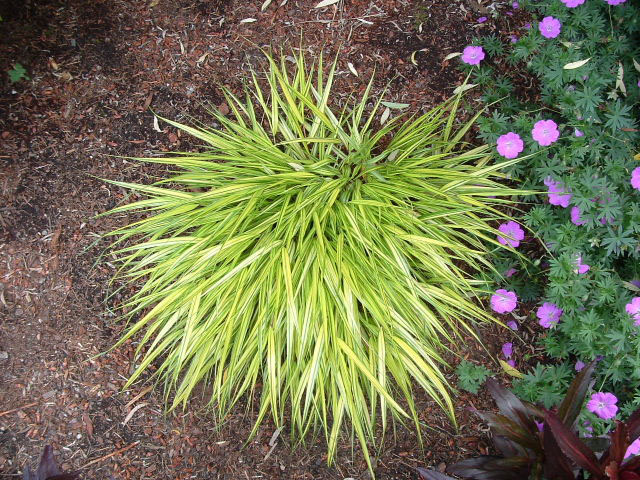 photo: nordique
Hakonechloa
These graceful members of the Poaceae family are named after Hakone, a region of Japan where they can be found growing wild in shady areas with humus-rich soil.
View a slideshow of plant images from this genus
A study in urbane simplicity, this vivid green grass fashions lush mounds of flowing bamboo-like foliage. Hakonechloa macra has often been overlooked, though its faster growing habit has a lot to offer, enduring more sun, drought and cold than the variegated Hakones. Solidly colored blades offset striped, gold, bronze or broad-leafed plants to great effect, or meld with Buxus 'Blauer Heinz' for a meditative green-on-green composition.
Size: 12"–3' 0" high x 12"–3' 0" wide; hardy to zone 4.
Hakonechloa macra (G-0546)
Each $8.75
Add to Cart
AVAILABLE SPRING 2018
White-Striped Hakone Grass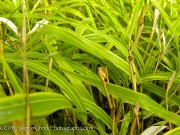 Always a popular cultivar, this Japanese forest grass is more sun tolerant than the golden form. The pendulous green foliage is adorned with thick and thin creamy white stripes. Under dappled light in the rock garden, by pathways, in containers, or planted beneath a dwarf Maple, 'Albo-Striata' will brighten your days.
Size: 12" high x 2' 0" wide; hardy to zone 6.
Hakonechloa macra 'Albo Striata' (G-0062)
Each $8.75
Add to Cart
AVAILABLE SPRING 2018
Golden Hakone Grass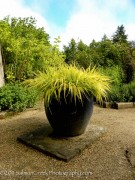 Gleaming with the clearest gilded shades imaginable, 'All Gold's broad foliar ribbons are surely the envy of King Midas! This slightly more upright Hakonechloa possesses the characteristic fluid ease of our other cultivars, and when set amid Astrantia 'Hadspen Blood', its radiant, fountain-like blades convey a dazzling vitality in any shady niche.
Size: 18" high x 18" wide; hardy to zone 6.
Hakonechloa macra 'All Gold' (G-0477)
Each $8.75
Add to Cart
Golden Variegated Hakone Grass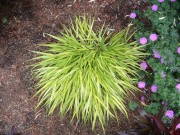 This cool season dwarf grass is lush and courtly. Cascading, satin-like foliage is broad and variegated with cream, chartreuse and green, illuminating dark garden corners and softening hard features. Appreciative of moist well-drained soil, 'Aureola' makes a choice specimen or slow spreading ground cover. We especially enjoy it in Japanese gardens as well as under the ambient light of Corylopsis spicata.
Size: 15" high x 18" wide; hardy to zone 6.
Hakonechloa macra 'Aureola' (G-0051)
Each $8.75
Add to Cart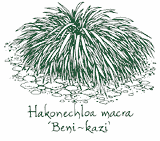 With the same overflowing grace as its relatives, newly introduced 'Beni-kaze' entertains brilliant red fall colors. The lax green mound of loosely arranged, draped blades remains green until cooler weather ignites the smooth foliar ribbons and begs its name, which translates "red wind." Lolling in the late season shadows, this larger growing Hakonechloa echoes the warm-hued fanfare of autumnal foliage.
Size: 18"–20" high x 2' 0"–2-1/2' wide; hardy to zone 6.
Hakonechloa macra 'Beni-kaze' (G-0497)
Each $8.75
Add to Cart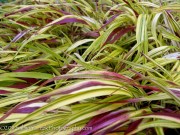 Discovered in a French trial garden, this recently introduced Hakone Grass is distinctive for its smaller stature and unique foliar blend of fall hues. The pendent, creamy white and yellow-green blades, which sport irregular green bands, appear similar to 'Aureola' during the spring and summer months.
Once the weather cools, some of the foliage transmutes deep reddish purple colors, while many leaves retain their bright variegation, crafting an exceptional multitoned spectacle. (pp#19,897)
Size: 10"–14" high x 18" wide; hardy to zone 5.
Hakonechloa macra 'Naomi' (G-0522)
SOLD OUT!
Email me when this plant is available
A brilliant foliar infusion of orange-red hues caused by cool autumn weather makes this compelling new cultivar unique. Reminiscent of bamboo, artful weeping blades remain deep green throughout spring and summer, developing into a low soft-looking ground cover that exhibits more sun and drought tolerance than its golden or variegated cousins and promises not to overtake its neighbors.
'Nicolas' brings bold color to the season's last curtain call and can be celebrated as a container subject, planted en masse in a naturalistic or modern venue or paired with bonsai, which is a favored Japanese tradition. (pp#19,898)
Size: 10"–14" high x 18" wide; hardy to zone 5.
Hakonechloa macra 'Nicolas' (G-0528)
Each $8.75
Add to Cart
Sporting the reverse variegation of its parent, 'Aureola', and growing slightly taller as well, 'Sunny Delight's slender predominately green blades showcase lambent golden yellow streaks and striations in varying widths. The shapely flowing habit makes a durable and deciduous bambooesque partner for fellow dappled shade-lovers like Geranium 'Alec's Pink' or Tricyrtis 'Blue Wonder'.
Size: 14" high x 20"–22" wide; hardy to zone 5.
Hakonechloa macra 'Sunny Delight' (G-0564)
Each $8.75
Add to Cart
Saturday Strolls & Plant Chats 2018!
Saturdays at 2 p.m. July 14th and 28th, August 18th, and September 15th. Stroll with Horticulturalist Deborah Whigham, sip iced tea, nibble on tasty snacks & take home helpful gardening tips & tricks!
Current Staff's Favorite Plant