Geum (Grecian Rose)
at Digging Dog
Including Geum varieties Prinses Juliana, Beech House Apricot, Mango Lassi, Lemon Drops, and Georgenberg

Geum
Grecian Rose
The Greek name for this genus, which means "to give a taste of," only hints at the flavor of happiness it brings to our garden. The cheerful flowers are held on sturdy stems above basal clumps of fuzzy leaves. Given good drainage and ample moisture, these robust perennials thrive with minimal care.
View a slideshow of plant images from this genus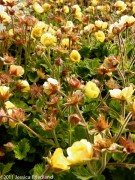 Streaked in cardinal shades atop reddish stalks, the nodding blooms adorn a handsome, close-knit hummock of divided medium green leaves. Casting warm-colored charm, 'Beech House Apricot' stays low to the ground, nestled alongside our stone steps with Campanula 'Birch Hybrid' for company.
Blooms May–July.
Size: 8" high x 8" wide; hardy to zone 5.
Geum 'Beech House Apricot' (P-1112)
Each $8.50
Add to Cart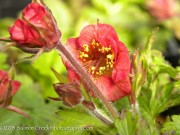 Impassioned by blazing, dark scarlet shades, round upward facing flowers parade on wiry, merlot-colored branching stems. This compact, long blooming Piet Oudolf selection juxtaposes opulent colors against a low clump of dark green foliage that's just right for nestling amid steps or along a pathway's edge. (pp#13,730)
Blooms April – June.
Size: 16" high x 12" wide; hardy to zone 5.
Geum x 'Flames of Passion' (P-1598)
SOLD OUT!
Email me when this plant is available
Aglow with golden apricot colors, ebullient saucer-shaped flowers garnish short stocky red-infused stems above a fetching tightset green rosette. The prolific 5-petaled lucent blossoms offer a repeat bloom if judiciously dead-headed, while the rounded ripple-edged leaves remain evergreen in most climates. This well-groomed compact charmer fends off deer and rabbits, enhances Euphorbia 'Acid Wash' or blue-flowering Dracocephalum and makes a prismatic easy-care addition to staircases, path edges and a terra-cotta container.
Blooms April–July
Size: 15" high x 12" wide; hardy to zone 5.
Geum 'Georgenberg' (P-0598)
Each $8.50
Add to Cart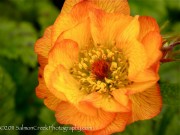 'Mango Lassi' blooms a luscious medley of fruit-laden colors: soft orange, mango and peach infused with rich golden hues and coral tinges. Bedazzling her soft, small-toothed leaves, the layered and overlapping delicate petals shape sumptuous double flowers, while frilly-looking, dark nectarine centers and reddish purple buds heighten the allure. Introduced by Blooming Nursery, this neatly grounded 'lassi' will bring warm, glowing accents to Stachys 'Silky Fleece'.
Blooms May–July.
Size: 12" high x 12" wide; hardy to zone 5.
Geum 'Mango Lassi' (P-1382)
Each $8.50
Add to Cart
Once you witness the floriferous deluge that spans nearly 3 months, it's easy to see why this garden-worthy 1923 Dutch introduction is still celebrated as one of the best semidouble Geums available. Poised atop tall strong stems plus comely mounds of rounded rich green foliage, the abundantly petaled warm orange blooms emphasize their G. chiloense heritage by appearing earlier than most in the genus. Sunny rock work, cottage gardens or mixed plantings make an ideal domain for 'Prinses Juliana's fiery colors and undemanding temperament.
Blooms April-June
Size: 18"–2' 0" high x 18"–2' 0" wide; hardy to zone 5.
Geum 'Prinses Juliana' (P-1842)
Each $8.50
Add to Cart
Chilean Avens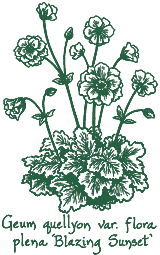 The sizzling scarlet-red display of ruffled, fully double roselike flowers perched upon 2 ft. tall well-branched stems will blaze this award-winning perennial into your heart. Peerless among Geum, 'Blazing Sunset's blooms claim to be the largest, nearly 2 ½ in. wide, the earliest to open and the last to call it quits. Anchoring the spunky floral pomp, winsome broad hairy leaves compose an undemanding compact semievergreen mound that stays low, maintains a lush green presence and can be situated right up front.
Blooms May–August.
Size: 18"–2' 0" high x 18" wide; hardy to zone 5.
Geum quellyon var. flora plena 'Blazing Sunset' (P-1755)
SOLD OUT!
Email me when this plant is available
Springing up as a chance seedling in Beth Chatto's Essex garden, this trim perennial fashions soft yellow blooms and a fresh green dome of scalloped leaves. Citrus-hued sprays unveil single bell-like flowers with orange stamens and green and red calyxes that dangle from arching wine-tinged stems.
Ensconced in the frontlines, this low growing Geum offers thirst-quenching accents just right for cooling down a fiery flowered companion like Potentilla 'Monarch's Velvet'.
Blooms May-July.
Size: 9" high x 9" wide; hardy to zone 5.
Geum rivale 'Lemon Drops' (P-1697)
Each $8.50
Add to Cart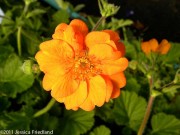 Topping a good-looking leafy clump,the double tangerine orange flowers of this long blooming Geum make it undeniably playful and a lively companion for Geranium 'Purple Pillow' and Bergenia 'Bressingham White' at the front of the border.
Blooms May–August.
Size: 18" high x 18" wide; hardy to zone 5.
Geum 'Starkers Magnificum' (P-0086)
SOLD OUT!
Email me when this plant is available
Prairie Smoke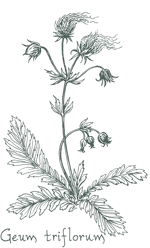 A small-statured inhabitant of our American prairies from Michigan to Washington and throughout most of the West, this aptly named charmer touts adorable nodding creamy white bells with flared mulberry-colored calyces, fanciful fruit and pinnately divided fern-like green leaves amid a rugged persona. The fading blooms, which generally occur in threes, give way to elongated 3 in. tall styles, creating prominent silver-pink smoke-shaped plumes and fluffy seed heads beloved by birds, butterflies and floral designers. Acquiescent to dry, sandy or clay soil, 'Prairie Smoke' can be massed along a path or tucked into a well draining sunny rock garden where its fine details, downy soft semievergreen foliage plus red, purple or orange fall colors are easily savored.
Blooms April–June
Size: 12"–18" high x 12"–18" wide; hardy to zone 3.
Geum triflorum (P-1935)
Each $8.50
Add to Cart
Saturday Strolls & Plant Chats 2018!
Saturdays at 2 p.m. July 14th and 28th, August 18th, and September 15th. Stroll with Horticulturalist Deborah Whigham, sip iced tea, nibble on tasty snacks & take home helpful gardening tips & tricks!
Current Staff's Favorite Plant