Catalog
Order the Catalog printed on genuine paper for $2.
Add to Cart
Digging Dog Nursery
a retail and mail order plant nursery specializing in unusual and hard to find perennials, ornamental grasses, shrubs, trees, and vines.
31101 Middle Ridge Rd.
Albion, CA 95410
phone:
(707) 937-1130
fax:
(707) 937-2480
Visit Us!
Summer Hours:
Wednesday–Saturday: 10am–4pm
Gaura
at Digging Dog
Including Gaura lindheimeri 'Pink Cloud', Gaura lindheimeri 'So White', and Gaura lindheimeri 'Summer Breeze'

Gaura
A genus of North American natives in the Evening Primrose family, the Onagraceae.
View a slideshow of plant images from this genus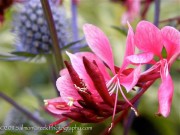 This new floriferous cultivar of the popular Southwest native was introduced by Plants Delight Nursery. Like a celestial shroud, myriad deep pink blooms appear to envelope its upright stance for months on end. With arching, wiry, reddish stems, wine-colored buds and narrow, maroon-mottled foliage, we plant it amidst Oenothera stricta, Nepeta, Lavenders and hardy Geraniums for an overall relaxed look. A late spring pruning and lean, well drained soil will ensure countless flowers and a more compact shape.
Blooms June–November.
Size: 2-1/2'–3' 0" high x 2' 0"–3' 0" wide; hardy to zone 6.
Gaura lindheimeri 'Pink Cloud' (P-1214)
Each $7.75
Add to Cart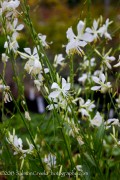 Like luminous butterflies on a breeze, four-petaled pure white blossoms with sparkly centers adorn slender, loosely arranged flower wands. This new, compact dwarf hails from Australia, and its narrow green leaves possess a willowy relaxed look that softens edges or nearby plants such as Boltonia 'Snowbank' and Artemisia 'Valerie Finnis'. Asking only for good drainage, long blooming 'So White' deserves a place in your garden where it easily tackles heat, humidity and some drought.
Blooms June – October.
Size: 18"–2' 0" high x 2' 0" wide. 5/6
Gaura lindheimeri 'So White' (P-1521)
Each $7.75
Add to Cart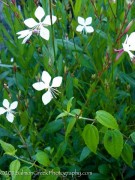 Originating in Austria's Sarastro Nursery and introduced by Jelitto in 2008, this robust selection boasts not only exceptional cold hardiness, but a bevy of beautiful white blooms. Slim burgundy dappled, green leaves send up long, gracefully arching scepters, dressed in pink buds and pearly flowers from early summer 'til frost. Adored by honey bees and flower arrangers, 'Summer Breeze' is aptly named, exhibiting an airy carefree look that can be partnered with Salvia reptans West Texas Form.
Blooms June – October.
Size: 4' 0" high x 2-1/2' wide; hardy to zone 5.
Gaura lindheimeri 'Summer Breeze' (P-1595)
Each $7.75
Add to Cart
Growing as a bushy well-branched perennial, 'White Heron's attractive somewhat smaller upright stature is defined by dark slender stalks clad in lance-shaped medium green leaves. An ethereal plethora of white flowers, embellished by long wispy white stamens, matures to light pink atop thin stems for an eye-catching 4 month-long presentation. This recently introduced cold hardy Gaura signals cooler weather with wine-colored striations and appreciates lean sharp draining soil as well as periodic deadheading.
Blooms June-October
Size: 18"–2' 0" high x 18"–2' 0" wide; hardy to zone 5.
Gaura lindheimeri 'White Heron' (P-1838)
SOLD OUT!
Email me when this plant is available
Garden Conservancy Open Day at Digging Dog!
Saturday, June 23 - 10 a.m. to 5 p.m. Digging Deeper – 1 pm - Enjoy a guided tour of the Private Gardens of Deborah Whigham and Gary Ratway, adjacent to Digging Dog Nursery in Albion, CA; free with $7.00 garden admission. 3 pm - Join Patricia Smyth, owner of Essence of the Tree, for a Japanese maple container demonstration. Tickets are available via
this link
or at Digging Dog Nursery. Plant shopping welcome!
Mendocino Art Center (MAC) Garden Tour!
Saturday, June 30 - 10 a.m. to 5 p.m. We welcome you to join us in support of The Mendocino Art Center for this fabulous garden tour and fundraiser. Tickets are available through the MAC's website.
Saturday Strolls & Plant Chats 2018!
Saturdays at 2 p.m. July 14th and 28th, August 18th, and September 15th. Stroll with Horticulturalist Deborah Whigham, sip iced tea, nibble on tasty snacks & take home helpful gardening tips & tricks!
Current Staff's Favorite Plant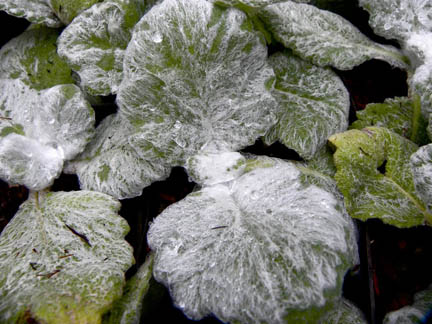 Customer Comment:
"I received my order yesterday, and I wanted you to know that everything looks wonderful. All the plants were a good size and healthy. I really appreciate that you sent it so quickly and that you have everything in stock that I was looking for. I will definitely order from you folks again."
~Debbie in Ohio
view Digging Dog's comments with Dave's Garden (The Garden Watchdog)