Catalog
Order the Catalog printed on genuine paper for $2.
Add to Cart
Digging Dog Nursery
a retail and mail order plant nursery specializing in unusual and hard to find perennials, ornamental grasses, shrubs, trees, and vines.
31101 Middle Ridge Rd.
Albion, CA 95410
phone:
(707) 937-1130
fax:
(707) 937-2480
Visit Us!
Summer Hours:
Wednesday–Saturday: 10am–4pm
Galtonia (Summer Hyacinth)
at Digging Dog
Including Galtonia candicans, and Galtonia viridiflora

Galtonia
Summer Hyacinth
The most enduring trophy of Francis Galton, an explorer and authority on Southwest Africa, may be the summer Hyacinth, which blooms when so many perennials are past their prime. These bulb-forming plants are happiest in rich, well drained soil and need moderate water in the summer.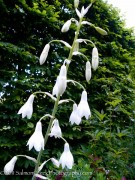 With dark green, straplike leaves and spikes of fragrant, drooping, funnel-shaped white flowers perched on 4 ft. stems, this species is undeniably dramatic. Create your own theater by planting it amidst darker, shade tolerant plants, under a high woodland canopy.
Blooms August–September.
Size: 4' 0" high x 12" wide. 6/7
Galtonia candicans (P-0074)
Each $7.75
Add to Cart
AVAILABLE SUMMER 2018
Berg Lily
A moist cliff dweller from the lower altitudes of the Drakensberg Mountains, this Galtonia's blooms have an airy effect. Up to thirty waxed and creamy green tubular flowers with light green, central bands extend out from the stem and then look downward at varied angles. Anchored by erect, green basal straps, the pale, delicate blooms loosely dress its broad floral pillars.
Blooms August–September.
Size: 4' 0"–5' 0" high x 12" wide; hardy to zone 8.
Galtonia princeps (P-1264)
SOLD OUT!
Email me when this plant is available
Named for its unusual lime-green flowers, which bloom earlier than those of Galtonia candicans, this species can accent the color and texture of Campanula 'Kent Belle'.
Blooms July–August.
Size: 3' 0" high x 12" wide; hardy to zone 7.
Galtonia viridiflora (P-0297)
Each $7.75
Add to Cart
Current Staff's Favorite Plant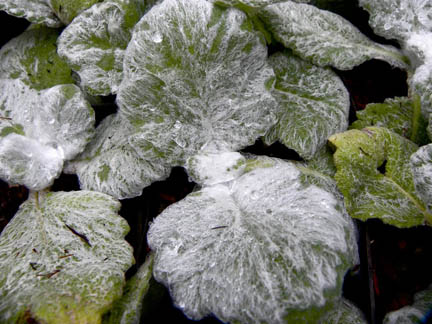 Customer Comment:
"Surfing the web for a special plant, I chanced on Digging Dog Nursery. I thought that any nursery that could create an Egyptian Gothic out of Anubis must have some pretty cool things going for it. I was right, and my first order was a pleasure. Well packed, healthy plants and extremely appealing people on the other side of the screen."
~Sam in Oregon
view Digging Dog's comments with Dave's Garden (The Garden Watchdog)