Digging Dog Nursery
a retail and mail order plant nursery specializing in unusual and hard to find perennials, ornamental grasses, shrubs, trees, and vines.
31101 Middle Ridge Rd.
Albion, CA 95410
phone:
(707) 937-1130
fax:
(707) 937-2480
Visit Us!
Summer Hours:
Wednesday–Saturday: 10am–4pm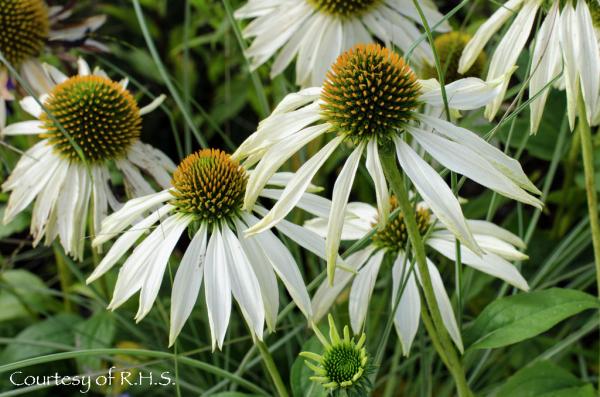 Our featured plant: Echinacea purpurea 'White Swan'
Noteworthy American natives and nativars, Exceptional Echinaceas!
Exceptional Echinaceas.... Favored by beginning and experienced gardeners alike for their colorful display of bold daisy-like cut flowers and easy-to-grow, nearly indestructible habits, Echinacea's are native mostly to the eastern and central U.S. Atop sturdy stems and dark green lanceolate foliage, the hefty summer blooming flower heads feature prominent raised central cones. Echinaceas are the perfect choice for a sunny well-drained perennial border, meadow garden, habitat planting or as an addition to a cut arrangement, either fresh or dried. Be sure to check out our other on-line selections!
Notable American natives and Nativars… Some of you might be wondering about the new horticultural term "nativar", which was recently coined by celebrated plantsman Dr. Allan Armitage, an author and horticulture professor at the University of Georgia. Nativar refers to both deliberately cultivated selections and naturally occuring variations of native plants. The naturally occuring varieties are either discovered in the wild or perhaps spotted growing in someone's landscape. Many ecologists suggest choosing nativars whose characteristics do not widely diverge from their native kin. For example, some recent studies indicate that pollinators generally prefer single flowers rather than the double-petaled cultivars. We're featuring a selection of natives and nativars that will enthrall garden mavens, pollinators and songbirds.
Digging Dog's Mid Late February 2018 Newsletter Link
Garden Conservancy Open Day at Digging Dog!
Saturday, June 23 - 10 a.m. to 5 p.m. Digging Deeper Ė Join Patricia Smyth, owner of Essence of the Tree, for a Japanese maple container demonstration. Enjoy a guided tour of the Private Gardens of Deborah Whigham and Gary Ratway, adjacent to Digging Dog Nursery in Albion, CA; free with $7.00 garden admission. Tickets are available via
this link
or at Digging Dog Nursery. Plant shopping welcome!
Mendocino Art Center (MAC) Garden Tour!
Saturday, June 30 - 10 a.m. to 5 p.m. We welcome you to join us in support of The Mendocino Art Center for this fabulous garden tour and fundraiser. Tickets are available through the MACís website.
Saturday Strolls & Plant Chats 2018!
Saturdays at 2 p.m. July 14th and 28th, August 18th, and September 15th. Stroll with Horticulturalist Deborah Whigham, sip iced tea, nibble on tasty snacks & take home helpful gardening tips & tricks!
Current Staff's Favorite Plant