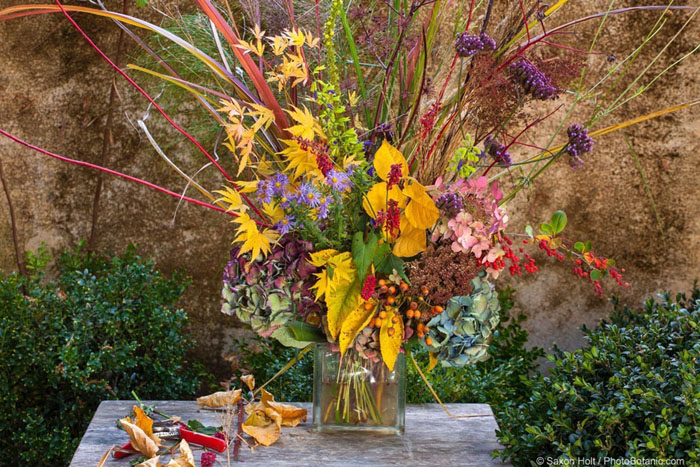 Our fall arrangement includes: Asters Hydrangeas Miscanthus Molinias Persicarias Salvias Verbenas
I wanted this arrangement to celebrate the diverse beauty that autumn affords. It was photographed by acclaimed garden photographer, Saxon Holt, who happened to be visiting us.
Autumnal Fanfare: Lambent Leaves, Glistening Berries, Fleeting Flowers, last chance for Fantastic Fall Sale, Gift Certificates now on sale!
Here at Digging Dog, we've had some welcome rain to actually soak the soil. With the onset of shorter days and chilly nights, a quieter contemplative mood envelopes parts of the garden. As many herbaceous plants are fading into dormancy, evergreen shrubs, bold-toned leaves, textural seed-heads plus plump glistening berries take center stage. The impressive group of plants featured in this newsletter caught my eye when I strolled through the nursery and garden yesterday. I hope you enjoy these compelling autumnal offerings. In many locales throughout the country, there's still time to tuck some botanical gems into an empty garden nook.