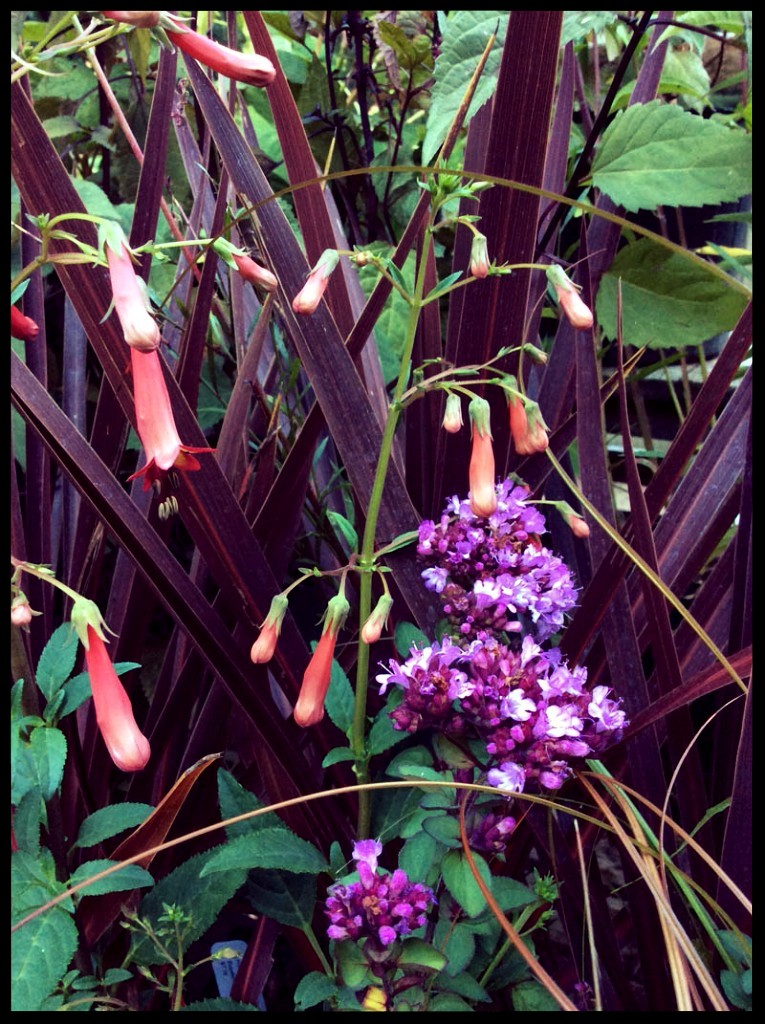 The plants featured in our vignette: Phygelius x rectus 'African Queen', Cordyline australis'Red Star', Origanum 'Rosenkuppel'
Ornate Origanums - a bevy of long lasting blooms, reliable late season color, join us for our Dog-Gone Autumn plant sale!
Ornamental Origanums offer enduring fall flowers
Beloved by bees, floral arrangers and plant enthusiasts, Origanums showcase a bevy of ornate long lasting flowers that range from chartreuse and pink to purple, plus a winsome habit that can handle dry conditions. The rich purple-colored blooms of Origanum 'Ed Carman' and Origanum 'Rosenkuppel' blend easily with most colors, especially warm toned foliage and orange blossoms. They are a cinch to grow, asking only for a sunny well-drained niche. Be sure to check out our other online Origanum selections.
Late season color you can count on!
We're in the midst of a lovely Indian summer here at the nursery, after experiencing the hottest summer on record with one 107° afternoon. Thankfully, everyone's diligent watering, as well as a generous spring-time top-dressing of custom-blended compost helped the garden survive the heat wave!
Many of the featured plants in this newsletter were photographed this week, as I strolled through the garden and nursery. Promising charm, bold color or compelling texture, either their flowers or foliage, or in some instances both, are a welcome lift at this time of year.
We welcome you to attend our Dog-Gone Super Autumn Plant Sale!
Reap the benefit of fall planting!
October 6 thru 8, 10 am to 5 pm •Discover an abundance of easy-to-grow plants, including many pollinator friendly and drought tolerant selections, at a savings! Stroll our delightful display plantings.
Saturday October 7: Guided tour with Deborah Whigham, 2pm.
Digging Dog's Early October 2017 Newsletter Link