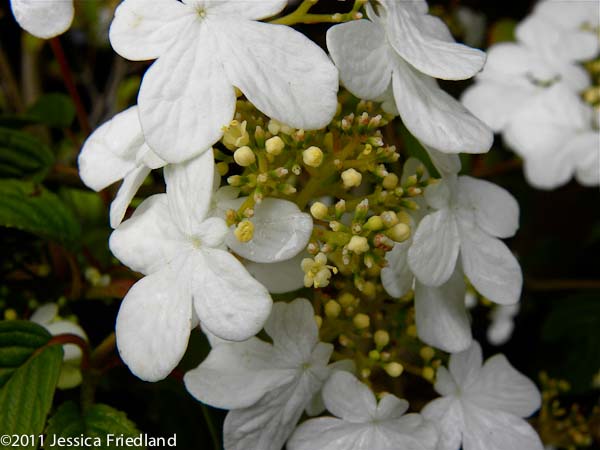 Sterling Spring blooming shrubs, plus head-turning Perennials.
Here's the tall and short of it…
Sterling spring blooming shrubs, all dressed in classy green leaves and crisp white flowers. Viburnum plicatum 'Summer Snowflake' is the largest of our featured shrubs, fashioning graceful somewhat horizontal branches adorned with snowy lace caps. Cultivated since 1868, well-loved Spiraea x vanhouttei makes a shapely low maintenance addition to sunny mixed borders, while smaller-statured Deutzia gracilis 'Nikko' offers a galaxy of dainty white blooms perfect for the rockery, nestled along steps or in a container.
Head turning Perennials
Nearly 65" of rain coupled with chilly spring days spawned a remarkable surge of lush foliar growth, plus spectacular long-lasting flowers in our nursery & garden this year. Spring is always such an exciting time as we watch the multitude of leaves, buds and blooms that seemingly unfurl over night plus the numerous new shoots stretching skyward. Dicentra 'Gold Heart's delicate golden foliage glows in dappled shady niches, while the dark leaves of Eupatorium 'Chocolate', Astrantia 'Moulin Rouge's exquisite domes, and the richly colored Sedum 'Jose Aubergine' promise to turn more than a few heads in your garden. Perhaps you could let Campanula 'Blue Waterfall' cascade down your garden steps, or brighten up a sunny bed with Geum 'Prinses Juliana'. We hope you'll make room for a few of these shrubs & perennials. Our extensive display borders which surround the nursery are now open through Colombus Day weekend. Our first guided Saturday Stroll is June 24th., followed by July 15th & 29th. We hope you'll come visit us this summer.
Digging Dog's June 2017 Newsletter Link
"