Filipendula (Meadow Sweet)
at Digging Dog
Including Filipendula 'Kahome', Filipendula rubra 'Venusta', Filipendula rubra 'Venusta Alba', and Filipendula ulmaria 'Aurea'

Filipendula
Meadow Sweet
These hardy American perennials will satisfy your sweet tooth without making you pay a heavy price. In almost any garden soil, their foliage is full and dependable, enlivened by spraylike panicles of small flowers. Most prefer a moist well-drained setting and will happily linger at the edge of a pond.
View a slideshow of plant images from this genus
Dwarf Meadowsweet
For those gardeners who love the pink floral froth of Filipendula 'Venusta', but desire something smaller, 'Kahome' is your answer! This dwarf clumping perennial throws branched cotton candy-colored panicles of tiny fragrant flowers above pinnately cut bright green leaves that assume a fern-like quality on young red-infused stems. Equally valued for its lovely effervescent flowers and textural cucumber-scented foliage, Meadowsweet can be massed as a ground cover and added to a border, damp meadow, stream side or cottage garden, where it relishes light shade.
Blooms July–August
Size: 6"–12" high x 6"–12" wide; hardy to zone 3.
Filipendula 'Kahome' (P-0524)
Each $7.75
Add to Cart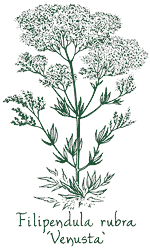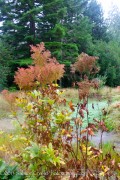 A statuesque beauty, 'Venusta' is distinguished by huge, fluffy cloudlike plumes painted with soft salmon pinks floating above a good-sized, leafy mass of upright stems and jagged, Maple-shaped foliage. Forging an impressive stand in a moist well drained setting, Meadow Sweet seldom needs staking, and makes an airy partner for Trollius ' Superbus'.
Blooms July–August.
Size: 4' 0"–5' 0" high x 2' 0" wide; hardy to zone 4.
Filipendula rubra 'Venusta' (P-1024)
Each $7.75
Add to Cart
Queen of the Prairie
This magnificent American native struts a bushy upright pedestal of notched dark green compound foliage with bold 4 to 8 in. lobed terminal leaflets plus paired incised laterals. Swarthy stems bolster the generous perfumed panicles described by diminutive loosely arranged pure white flowers. A leafy back-of-the border mainstay, 'Venusta Alba's wispy floral pouffes look especially spectacular when planted in drifts and viewed from afar.
Blooms July–August
Size: 4' 0"–5' 0" high x 2' 0" wide; hardy to zone 5.
Filipendula rubra 'Venusta Alba' (P-1884)
Each $7.75
Add to Cart
Esteemed for its bright golden foliage, this moisture-lover delights with fragrant Astilbe-like clusters of minute creamy white flowers. Upright clump-forming stems are garbed in prominently veined, deeply dissected leaves, which transmute a vivid chartreuse glow as summer approaches.
Companions like Ophiopogon 'Nigrescens' and Geranium 'Espresso' make 'Aurea's lambent accents appear even more exceptional; protection from hot afternoon sun and fertile, moderately wet soil ensure its success.
Blooms July–August.
Size: 2' 0"–3' 0" high x 2' 0" wide; hardy to zone 4.
Filipendula ulmaria 'Aurea' (P-0072)
Each $7.75
Add to Cart
Current Staff's Favorite Plant