Catalog
Order the Catalog printed on genuine paper for $2.
Add to Cart
Digging Dog Nursery
a retail and mail order plant nursery specializing in unusual and hard to find perennials, ornamental grasses, shrubs, trees, and vines.
31101 Middle Ridge Rd.
Albion, CA 95410
phone:
(707) 937-1130
fax:
(707) 937-2480
Visit Us!
Summer Hours:
Wednesday–Saturday: 10am–4pm
Festuca (Fescue)
at Digging Dog
Including Festuca amethystina 'Superba', and Festuca californica 'Phil's Silver'

Festuca
Fescue
Originating from the Latin word for stalk or stem, the genus Festuca is comprised of approximately 300 cool season perennial species. The following native Californian selections highlight handsome, fine textured tufts, which appreciate a well drained site, annual early spring trimmings and a division every couple of years, while sulking in hot humid weather.
A denizen of central Europe, this ultra fine textured grass is practically peerless among Festucas. Soft silver blue blades with rolled edges configure a well-groomed glaucous mound. Extending above evergreen clumping foliage, quantities of relaxed slender stems generate vivid heliotrope shades paired with amber-hued flower spikes for more than a month. 'Superba' can serve as a dynamic small-scale specimen sprinkled above a stone wall or throughout the rockery, where its stunning color always beckons.
Blooms mid-May to mid-July.
Size: 18"–2' 0" high x 2' 0"–2-1/2' wide; hardy to zone 4.
Festuca amethystina 'Superba' (G-0527)
Each $8.00
Add to Cart
AVAILABLE SPRING 2018
A focal point for its stiff silvery blades, this robust grass originated from seed that Cal Flora Nursery owner, Phil Van Soelen, collected near California's Sonoma coast. Anchored by burgundy sheaves, glaucous gray-green leaves remain evergreen in milder climates and become more lustrous as the weather warms. Unfurling in open, yet showy, abundance, the graceful greenish panicles mature to a golden hue some 2 or 3 ft. above a fairly compact, dense basal tuft of enduring handsome foliage. Resplendent massed with shrubs such as Ceanothus, Cistus or Ribes, 'Phil's Silver' prefers minimal to moderate summer water and obliges an array of situations, such as coastal slopes, wind and drought in cooler locations.
Blooms April–June.
Size: 3' 0" high x 3' 0" wide; hardy to zone 7.
Festuca californica 'Phil's Silver' (G-0462)
Each $8.00
Add to Cart
AVAILABLE SPRING 2018
Blue Bunchgrass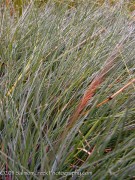 Not only beautifully blue, but hard-working to boot, this water wise perennial grass is a California native from Del Norte County. A thick, tidy hummock of very thin, chalk blue blades sends up slender, wandlike stems holding graceful, airy golden sprays.
Hallmarked by a composed appearance, 'Stony Creek' is most impressive and enduring in large drifts on banks or hillsides, where it aids erosion control, resists those pesky deer, doesn't falter in full sun even inland, and prefers some afternoon shade.
Blooms April–June.
Size: 2' 0"–2-1/2' high x 2' 0" wide. 7/8
Festuca idahoensis 'Stony Creek' (G-0488)
SOLD OUT
Email me when this plant is available
Atlas Fescue
Indigenous to Morocco's Atlas Mountains, this long lived cold hardy grass sprouts a gracefully arching fountain distinguished by handsome khaki-tinged gray-green blades. Taller than most Festucas, Atlas has quickly earned the reputation as one of the finest large area ground covers, proving indispensable for mass plantings on slopes, in mixed borders or natural style meadows. Evergreen where winters are mild and remarkably drought tolerant, its reliable good looking mound relishes occasional waterings and doesn't require a trim, only a little raking.
Blooms June.
Size: 2' 0"–3' 0" high x 2' 0"–3' 0" wide; hardy to zone 4.
Festuca mairei (G-0541)
SOLD OUT!
Email me when this plant is available
Garden Conservancy Open Day at Digging Dog!
Saturday, June 23 - 10 a.m. to 5 p.m. Digging Deeper Ė 1 pm - Enjoy a guided tour of the Private Gardens of Deborah Whigham and Gary Ratway, adjacent to Digging Dog Nursery in Albion, CA; free with $7.00 garden admission. 3 pm - Join Patricia Smyth, owner of Essence of the Tree, for a Japanese maple container demonstration. Tickets are available via
this link
or at Digging Dog Nursery. Plant shopping welcome!
Mendocino Art Center (MAC) Garden Tour!
Saturday, June 30 - 10 a.m. to 5 p.m. We welcome you to join us in support of The Mendocino Art Center for this fabulous garden tour and fundraiser. Tickets are available through the MACís website.
Saturday Strolls & Plant Chats 2018!
Saturdays at 2 p.m. July 14th and 28th, August 18th, and September 15th. Stroll with Horticulturalist Deborah Whigham, sip iced tea, nibble on tasty snacks & take home helpful gardening tips & tricks!
Current Staff's Favorite Plant