Catalog
Order the Catalog printed on genuine paper for $2.
Add to Cart
Digging Dog Nursery
a retail and mail order plant nursery specializing in unusual and hard to find perennials, ornamental grasses, shrubs, trees, and vines.
31101 Middle Ridge Rd.
Albion, CA 95410
phone:
(707) 937-1130
fax:
(707) 937-2480
Visit Us!
Summer Hours:
Wednesday–Saturday: 10am–4pm
Fallopia
at Digging Dog
Including Fallopia aubertii 'Lemon Lace', and Fallopia japonica var. compacta

Fallopia (trees and vines)
View a slideshow of plant images from this genus
Lemon Lace Vine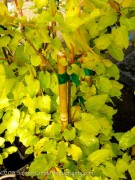 Newly discovered by Bluebird Nursery staff member, Pam Bahns, this more refined, slower growing sport offers surprising accents of rich, ruby-red stems and petioles amid a dazzling, golden foliar drape. Summer brings chalk white flowers in cheerful frothy masses and papery, pink-flushed white fruit.
Shedding a sprightly brilliance upon any lackluster garden setting, the delicate, deciduous Lemon Lace Vine can thread its way up a pole in the mixed border, illuminate a fence or intertwine with a Clematis. Large band.
Blooms August–September.
Size: 15' 0"–20' 0" high & spreading; hardy to zone 5.
Fallopia aubertii 'Lemon Lace' (T-0237)
Each $14.75
Add to Cart
Fallopia (perennials)
View a slideshow of plant images from this genus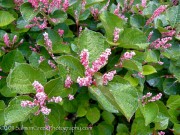 Don't let this species' humdrum name or slow start put you off. Although it emerges from the ground late in the spring, Fallopia japonica var. compacta reaches full height rather quickly.
Panicles of miniature white and pinkish red flowers, whose bicolored quality makes them sparkle, dress up the bushy visage. Rounded, ripple-edged and leathery, the attractive dark green leaves are held by crimson petioles, and furnish a brilliant yellow fanfare once the weather begins to cool.
Blooms late August–early October.
Size: 4' 0" high x 4' 0" wide; hardy to zone 4.
Fallopia japonica var. compacta (P-1343)
Each $8.00
Add to Cart
AVAILABLE FALL 2018
Saturday Strolls & Plant Chats 2018!
Saturdays at 2 p.m. July 14th and 28th, August 18th, and September 15th. Stroll with Horticulturalist Deborah Whigham, sip iced tea, nibble on tasty snacks & take home helpful gardening tips & tricks!
Current Staff's Favorite Plant