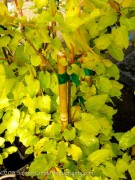 Newly discovered by Bluebird Nursery staff member, Pam Bahns, this more refined, slower growing sport offers surprising accents of rich, ruby-red stems and petioles amid a dazzling, golden foliar drape. Summer brings chalk white flowers in cheerful frothy masses and papery, pink-flushed white fruit.
Shedding a sprightly brilliance upon any lackluster garden setting, the delicate, deciduous Lemon Lace Vine can thread its way up a pole in the mixed border, illuminate a fence or intertwine with a Clematis. Large band.
Blooms August–September.
Size: 15' 0" – 20' 0" high x 0" & spreading wide.
Hardy to zone 5.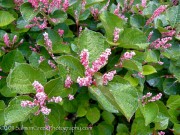 Don't let this species' humdrum name or slow start put you off. Although it emerges from the ground late in the spring, Fallopia japonica var. compacta reaches full height rather quickly.
Panicles of miniature white and pinkish red flowers, whose bicolored quality makes them sparkle, dress up the bushy visage. Rounded, ripple-edged and leathery, the attractive dark green leaves are held by crimson petioles, and furnish a brilliant yellow fanfare once the weather begins to cool.
Blooms late August–early October.
Size: 4' 0" high x 4' 0" wide.
Hardy to zone 4.