Eupatorium
at Digging Dog
Including Eupatorium ligustrinum, Eupatorium maculatum, Eupatorium purpureum, Eupatorium purpureum ssp. maculatum, and Eupatorium rugosum

Eupatorium (perennials)
Joe-Pye Weed
Many have discovered the curative aspects of Eupatorium, yet only two have lent it their names: Eupator, a King of Pontus, and an American Indian named Joe-Pye. We prescribe these uncommon perennials for whatever ails your garden. Some delegate this rather coarse and undeniably bold member of the Asteraceae family to meadow gardens, but we've found that Eupatorium can provide balance and stability to formal situations as well. Best of all, butterflies love them!
View a slideshow of plant images from this genus
Regarded as one of the top ten plants of the Dutch wave, favored by bees and butterflies and an AGM winner, this superb back-of-the-border beauty propels polished, tall dark purple stems–stiff, straight and staunch–skyward bound. Loosely arranged whorls of heavily textured deep green tapered leaves anchor fluffy 8 in. wide domed flower heads awash with reddish purple hues. Its lofty architecture maintains a dignified profile, even in winter, enhanced by warm browns and seed heads, which nourish finches and tits.
Blooms August–October.
Size: 5' 0"–7' 0" high x 3' 0" wide; hardy to zone 4.
Eupatorium maculatum 'Riesenschirm' (P-1754)
Each $7.75
Add to Cart
AVAILABLE LATE APRIL/MAY 2018
This robust cousin is from the taller side of the family (up to 6 or 7 ft.), and shares the wine red stem coloring of its smaller kin. Eupatorium purpureum features a stately carriage with broad, domed heads hosting purple-mauve flowers. It's tough, reliable and effective for the back of the border.
Blooms September–October.
Size: 6' 0" high x 2' 0" wide; hardy to zone 4.
Eupatorium purpureum (P-1081)
Each $7.75
Add to Cart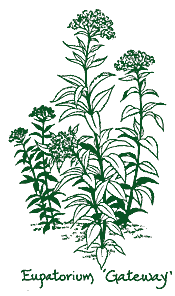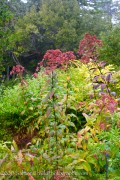 In late spring, 'Gateway's vigorous shoots burst through the mulch. Wine-red stems develop large green coriaceous leaves, lending mass to the middle or back of the border. The dense, broad flower clusters bloom in a lavender-purple that's both strong and soft. This uniquely muted shade feels like fall, and blends well with other late bloomers. Try it with Rudbeckia or Aster cordifolius.
Blooms August–September.
Size: 4' 0" high x 2' 0" wide; hardy to zone 4.
Eupatorium purpureum ssp. maculatum 'Gateway' (P-0067)
Each $7.75
Add to Cart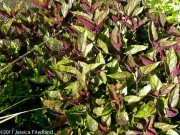 Sumptuous and shiny, the crinkled reddish chocolate foliage adorns the erect purple stems of this superb cultivar, selected by Richard Lighty from the eastern native White Snakeroot. With Physocarpus 'Dart's Gold' as a neighbor, E. 'Chocolate' adds deep rich accents to our mixed border, and in late summer, corymbs of tiny white flowers at the stem tips seem to sparkle against the dark leaves.
Blooms August–September
Size: 4' 0" high x 2-1/2' wide; hardy to zone 4.
Eupatorium rugosum 'Chocolate' (P-0691)
Each $7.75
Add to Cart
Eupatorium (shrubs)
View a slideshow of plant images from this genus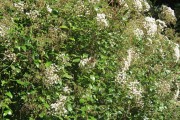 Butterflies and garden visitors alike will flock to this fragrant Mexican beauty. Small bronzy green leaves and stems fashion a dense, twiggy evergreen shrub that broadcasts a luminous last hurrah when fluffy masses of large, flat white flower heads nearly engulf its upright frame.
Discovered in 1867, Eupatorium ligustrinum creates an extraordinary and easily maintained backdrop for a mixed planting. It appreciates well drained soil, periodic deadheading and protection from wind and winter cold.
Blooms August – November.
Size: 8' 0" high x 6' 0" wide. 8/9
Eupatorium ligustrinum (S-0714)
Each $9.75
Add to Cart
Saturday Strolls & Plant Chats 2018!
Saturdays at 2 p.m. July 14th and 28th, August 18th, and September 15th. Stroll with Horticulturalist Deborah Whigham, sip iced tea, nibble on tasty snacks & take home helpful gardening tips & tricks!
Current Staff's Favorite Plant