Catalog
Order the Catalog printed on genuine paper for $2.
Add to Cart
Digging Dog Nursery
a retail and mail order plant nursery specializing in unusual and hard to find perennials, ornamental grasses, shrubs, trees, and vines.
31101 Middle Ridge Rd.
Albion, CA 95410
phone:
(707) 937-1130
fax:
(707) 937-2480
Visit Us!
Summer Hours:
Wednesday–Saturday: 10am–4pm
Eucomis (Pineapple Lily)
at Digging Dog
Including Eucomis 'Toffee', Eucomis 'Victoria', and Eucomis 'Oakhurst'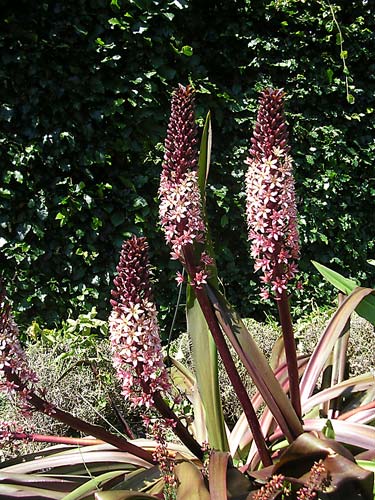 Eucomis
Pineapple Lily
A phenomenal display from a wondrous bulb, Eucomis belongs to the Lily family and calls tropical southern Africa its home. While its bold architectural lines beg a prominent spot in the ground or in a container, Pineapple Lily prefers warm, sunny nooks with mulched, well drained soil, and protection from excessive winter cold and moisture.
View a slideshow of plant images from this genus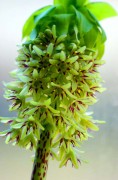 Anchored by lustrous, undulating light green leaves, maroon-flecked green stems elevate the intriguing purple-edged, pale green blooms. A tuft of verdant leaves crests each flowering raceme. Its smaller profile and out-of-the-ordinary coloration makes it an exemplary choice for a blue glazed vessel in a well traveled spot.
Blooms July–September.
Size: 18"–2' 0" high x 2' 0"–2-1/2' wide; hardy to zone 7.
Eucomis bicolor (P-1262)
SOLD OUT!
Email me when this plant is available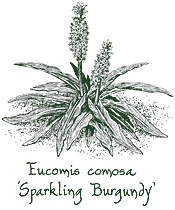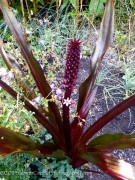 The sumptuous burgundy-red, semierect rosette of strapping, waxy leaves appears more green as the weather warms. Crowned by a pineapple-like cluster of leaves, densely set starry flowers envelope thick, cylindrical maroon spikes. The purple blossoms display unique greenish tones, and add dramatic, long lasting highlights to arrangements. Showy persistent seed capsules follow.
Blooms late July–September.
Size: 2' 0"–2-1/2' high x 2-1/2'–3' 0" wide. 7/8
Eucomis comosa 'Sparkling Burgundy' (P-1263)
SOLD OUT!
Email me when this plant is available
Massive deep ruby red spikes, densely studded with star-like milky pink flowers, ascend from a gorgeous upright rosette of thick vibrant burgundy straps. Tantalizing pollinators, horticulturists and florists, the long lasting blooms are crowned by pineapple-style clusters of small leaves, while showy persistent seed capsules extend the floral splendor. A sensational choice for a container, along a pathway or atop a rock wall, 'Oakhurst' flourishes in bright well-drained abodes, appreciates mulch (especially during cold winters) and endures drought, though it prefers moderate moisture.
Blooms July–September
Size: 2' 0"–2-1/2' high x 18"–2' 0" wide; hardy to zone 7.
Eucomis 'Oakhurst' (P-0940)
Each $9.00
Add to Cart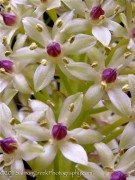 Welcome the Queen of Green! Succulent, waxed and wave-edged green leaves, sturdy green stalks, and a magnificent cluster of wide-open, bright green blooms blushed slightly with pink, are followed by a display of greenish fruits. Her genus name means "beautifully headed" and it describes the unusual leaf tuft that surmounts the cylindrical flower spike. Perhaps the tallest in her lineage, we suggest grouping several Eucomis together where people will linger so the distinctive flowers can be readily enjoyed.
Blooms July–October.
Size: 4' 0"–5' 0" high x 3' 0" wide; hardy to zone 8.
Eucomis pole-evansii (P-1178)
SOLD OUT!
Email me when this plant is available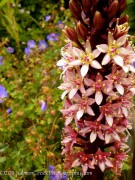 With bronzy merlot-colored undulating margins, the olive-green sword-like foliage shows off reddish toffee-shaded linear streaks on top, while curious burgundy stipples and striations mark the undersides. The warm-looking, somewhat erect rosette gets a cheerful lift when staunch flower stalks give way to pastel columns of star-shaped rosy pink flowers topped by leafy tufts.
Blooms late July–early October
Size: 2' 0"–2-1/2' high x 2-1/2'–3' 0" wide. 7/8
Eucomis 'Toffee' (P-1450)
Each $9.00
Add to Cart
Heightened by bronze overtones, curvy edges and streaked and speckled backsides, plus new burgundy growth, the 3 in. wide moss green straps reach nearly 2 ft. in length, sculpting a fantastic somewhat reflective roost. Beefy wine-hued stems uphold spectacular green tufted Pineapplesque towers that house a dense multitude of whitish flowers with prominent dusky violet centers. Companions such as Lepechinia hastata or Sedum 'Jose Aubergine', echo 'Victoria's opulent foliar shades and distinctive purple floral hues.
Blooms July-August
Size: 2-1/4' high x 3' 0" wide. 7/8
Eucomis 'Victoria' (P-1837)
Each $9.00
Add to Cart
Garden Conservancy Open Day at Digging Dog!
Saturday, June 23 - 10 a.m. to 5 p.m. Digging Deeper – Join Patricia Smyth, owner of Essence of the Tree, for a Japanese maple container demonstration. Enjoy a guided tour of the Private Gardens of Deborah Whigham and Gary Ratway, adjacent to Digging Dog Nursery in Albion, CA; free with $7.00 garden admission. Tickets are available via
this link
or at Digging Dog Nursery. Plant shopping welcome!
Mendocino Art Center (MAC) Garden Tour!
Saturday, June 30 - 10 a.m. to 5 p.m. We welcome you to join us in support of The Mendocino Art Center for this fabulous garden tour and fundraiser. Tickets are available through the MAC's website.
Saturday Strolls & Plant Chats 2018!
Saturdays at 2 p.m. July 14th and 28th, August 18th, and September 15th. Stroll with Horticulturalist Deborah Whigham, sip iced tea, nibble on tasty snacks & take home helpful gardening tips & tricks!
Current Staff's Favorite Plant