Catalog
Order the Catalog printed on genuine paper for $2.
Add to Cart
Digging Dog Nursery
a retail and mail order plant nursery specializing in unusual and hard to find perennials, ornamental grasses, shrubs, trees, and vines.
31101 Middle Ridge Rd.
Albion, CA 95410
phone:
(707) 937-1130
fax:
(707) 937-2480
Visit Us!
Summer Hours:
Wednesday–Saturday: 10am–4pm
Dicentra (Bleeding Heart)
at Digging Dog
Including Dicentra spectabilis 'Gold Heart'

Dicentra
Bleeding Heart
View a slideshow of plant images from this genus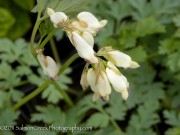 With charm to spare, alabaster heart-shaped "lockets", each inscribed by a small pink mark gracefully dangle from pendulous, branched sprays atop a soft-looking ferny hummock. This choice evergreen perennial easily naturalizes given a cool moist location, the fernlike delicacy of its deeply divided, smoky blue leaves belying their vigor.
Unparalleled in the shade garden, 'Margery Fish' becomes summer dormant when the soil is too dry, can be planted as a lacy counterpoint to Tiarella 'Mint Chocolate' or cut for a sterling addition to a bouquet.
Blooms April–May & again in fall.
Size: 10" high x 12" wide; hardy to zone 5.
Dicentra 'Margery Fish' (P-0912)
SOLD OUT!
Email me when this plant is available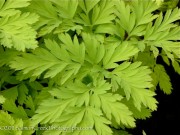 Hailing from the Pope's Hadspen Gardens in Somerset, England, this Dicentra's artful golden mounds of dissected ferny leaves will light up the shady corners of your garden. Nodding heart-styled rose pink flowers line long, one-sided arching racemes above spectacular glowing foliage that is more yellow in bright shade and transforms to lime green in deeper shade.
'Gold Heart' can be massed with blue flowering Pulmonaria 'Highdown' and Anemone nemorosa 'Vestal' for sparkling color and contrasting foliar textures.
Blooms April – May.
Size: 18"–2' 0" high x 2' 0"–2-1/2' wide; hardy to zone 4.
Dicentra spectabilis 'Gold Heart' (P-1647)
Each $9.50
Add to Cart
Garden Conservancy Open Day at Digging Dog!
Saturday, June 23 - 10 a.m. to 5 p.m. Digging Deeper Ė Join Patricia Smyth, owner of Essence of the Tree, for a Japanese maple container demonstration. Enjoy a guided tour of the Private Gardens of Deborah Whigham and Gary Ratway, adjacent to Digging Dog Nursery in Albion, CA; free with $7.00 garden admission. Tickets are available via
this link
or at Digging Dog Nursery. Plant shopping welcome!
Mendocino Art Center (MAC) Garden Tour!
Saturday, June 30 - 10 a.m. to 5 p.m. We welcome you to join us in support of The Mendocino Art Center for this fabulous garden tour and fundraiser. Tickets are available through the MACís website.
Saturday Strolls & Plant Chats 2018!
Saturdays at 2 p.m. July 14th and 28th, August 18th, and September 15th. Stroll with Horticulturalist Deborah Whigham, sip iced tea, nibble on tasty snacks & take home helpful gardening tips & tricks!
Current Staff's Favorite Plant