Deutzia
at Digging Dog
Including Deutzia gracilis 'Chardonnay Pearls', and Deutzia gracillis 'Nikko'

Deutzia
Closely related to Philadelphus, these deciduous Asian shrubs are named after Johann van der Deutz, a lawyer, town councilor and amateur botanist from Amsterdam. Gracing the garden with a lovely long lasting profusion of flowers, Deutzias are simple to cultivate in any well-drained fertile soil.
Drink in the pearlescent splendor of this spirited vintage whose frosty star-shaped blossoms sparkle amid burn resistant and serrated lemon-green foliage. Exploding from clustered immaculately white buds, the delicate flowers adorn gently arching branches. A luminous companion for Viburnum 'Molly Schroeder's deep greenery, with the small textural leaves of Ajuga 'Emerald Chip' skirting below, 'Chardonnay Pearl's orderly profile assures a bright crispness all season. (PPAF)
Blooms late May-early June
Size: 2' 0"–3' 0" high x 2' 0"–3' 0" wide; hardy to zone 5.
Deutzia gracilis 'Chardonnay Pearls' (S-0605)
Each $10.25
Add to Cart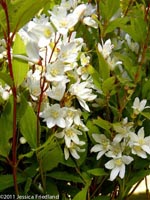 Unfurling from a galaxy of small round buds, dainty five-petaled crisp white blooms illuminate this tailored low growing Japanese cultivar. 'Nikko's diminutive dark forest green leaves fashion a compact ground cover-like shrub that entertains wine red shades in autumn and makes a stellar candidate for the rockery, nestling along steps or any other cozy nook.
Blooms March – April.
Size: 2' 0" high x 3' 0" wide; hardy to zone 5.
Deutzia gracillis 'Nikko' (S-0140)
Each $10.25
Add to Cart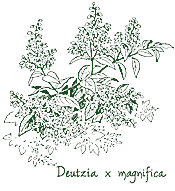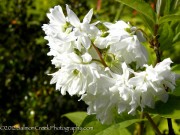 As the name implies, this is a magnificent hybrid that comes to us via the famous Lemoine Nursery in France, where many Deutzia and the closely related Philadelphus were hybridized between 1894 and 1927. It is a vigorous, upright shrub with a dense branching habit. Its exfoliating bark and pure white double flowers, carried in tightly clustered sprays along the branches, create much interest, especially in a shrubby or mixed border with a dark background.
In our garden, we contrast the white flowers with purple-leafed Cotinus 'Grace' and summer blooming Hydrangea 'Blue Billow'.
Blooms June–July.
Size: 6' 0"–8' 0" high x 6' 0" wide; hardy to zone 6.
Deutzia x magnifica (S-0196)
SOLD OUT!
Email me when this plant is available
Pink-A-Boo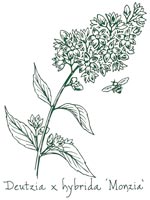 This exuberant bloomer parades dense frothy clusters of striking star-styled flowers, gradating in color from deep to light pink with white at the base and along the margins of each pretty petal. Opposite elliptical green leaves line long gracefully arching stems and older stalks, which sport exfoliating reddish brown bark. A robust easily cultivated hybrid between Deutzia longifolia and Deutzia discolor, 'Monzia' is well-suited for a mixed border or an informal hedge, where its deciduous upright visage and amazing floriferous display appreciate good drainage, moderate fertility and an occasional hard pruning.
Blooms May–June
Size: 7' 0" high x 5' 0" wide; hardy to zone 5.
Deutzia 'Monzia' (S-0195)
SOLD OUT!
Email me when this plant is available
Current Staff's Favorite Plant