Catalog
Order the Catalog printed on genuine paper for $2.
Add to Cart
Digging Dog Nursery
a retail and mail order plant nursery specializing in unusual and hard to find perennials, ornamental grasses, shrubs, trees, and vines.
31101 Middle Ridge Rd.
Albion, CA 95410
phone:
(707) 937-1130
fax:
(707) 937-2480
Visit Us!
Summer Hours:
Wednesday–Saturday: 10am–4pm
Deschampsia (Tufted Hair Grass)
at Digging Dog
Including Deschampsia varieties Goldgehänge, Schottland, Tardiflora, and Goldtau

Deschampsia
Tufted Hair Grass
Wispy seed heads stretch in airy fans above finely cut, deep green tufted foliage. By planting Deschampsia in drifts, with a dark or solid background, its delicate, hazy quality is put to best effect. Try this one waterside, in a woodland setting, or as an accent in the perennial bed. The 50 species in this genus are, or were, found primarily in temperate regions of the Northern Hemisphere.
Golden Tufted Hair Grass
The bright golden veil of nodding straw-colored flowers surely inspired this Deschampsia's cultivar name. Dense forest green tussocks anchor slightly pendulous stems dressed with fine textured, ethereal inflorescences that guarantee a glowing performance especially when massed and set against dark-leafed woodies like Parrotia persica.
Blooms July–October
Size: 2' 0"–3' 0" high x 2' 0" wide; hardy to zone 4.
Deschampsia cespitosa 'Goldgehänge' (G-0038)
Each $7.75
Add to Cart
Defined by narrow arching deep green foliage, a winsome sturdy mound propels verdant stems, exploding into sheer sprays of distinctively hued, long lasting yellow-green flowers. The lithe inflorescences exhibit glowing bronze tones when mature and provide an enticing winter aspect plus lend exquisite accents to bouquets. Smaller and more compact than other Deschampsia cultivars, this versatile undemanding cool season grass develops a dense semievergreen habit that can be grouped along a pathway or sited among Echinops 'Blue Glow' and Phygelius 'Peach Trombone'.
Blooms July-October
Size: 12"–2' 0" high x 12" wide; hardy to zone 4.
Deschampsia cespitosa 'Goldtau' (G-0556)
Each $7.75
Add to Cart
Scottish Tufted Hair Grass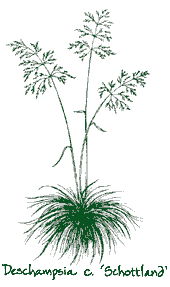 The silky, new light green flower heads of 'Schottland' invite a touch each time we pass by. One of the largest Deschampsias, this Scottish born selection spawns inflorescences that float nearly 3 ft. above a neat rounded clump of deep green foliage. Utilize as a specimen in a mixed border or in a more untamed arena.
Blooms July–December.
Size: 3' 0"–3-1/2' high x 2-1/2' wide; hardy to zone 4.
Deschampsia cespitosa 'Schottland' (G-0008)
Each $7.75
Add to Cart
Golden Tufted Hair Grass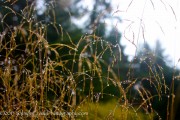 This Karl Foerster innovation boasts small dreamy looking inflorescences, whose wide airy consortium sparkles in gold, silver and purplish shades. Topping abundant flowing panicles, they appear later than the species, mature to an amber color and linger most of the winter. Arching close-knit narrow blades, edged by in-rolled margins, compose the low growing emerald green tussock that makes a tidy verdant companion for Eryngium bourgatii and Aster asperulus.
Blooms July – December.
Size: 2' 0"–3' 0" high x 2' 0"–3' 0" wide; hardy to zone 4.
Deschampsia cespitosa 'Tardiflora' (G-0526)
Each $7.75
Add to Cart
Crinkled Hair Grass
Meandering across dry open wooded areas, slopes and grasslands in North America, Europe and Asia, this tightset semievergreen grass hosts a diminutive trim tussock of arching wire-thin deep green blades beneath wide frothy inflorescences. The minute purple and bronze flowers populate swaying diaphanous panicles, which mature to gold after the seed ripens and are prized by floral arrangers as well as cardinals, finches and snow buntings. Withstanding drought and shade, Crinkled Hair Grass is an attractive formidable candidate for well-drained woodland gardens, borders or the rockery.
Blooms July–October
Size: 2' 0"–2-1/2' high x 12"–18" wide; hardy to zone 4.
Deschampsia flexuosa (G-0562)
Each $7.75
Add to Cart
Garden Conservancy Open Day at Digging Dog!
Saturday, June 23 - 10 a.m. to 5 p.m. Digging Deeper Ė Join Patricia Smyth, owner of Essence of the Tree, for a Japanese maple container demonstration. Enjoy a guided tour of the Private Gardens of Deborah Whigham and Gary Ratway, adjacent to Digging Dog Nursery in Albion, CA; free with $7.00 garden admission. Tickets are available via
this link
or at Digging Dog Nursery. Plant shopping welcome!
Mendocino Art Center (MAC) Garden Tour!
Saturday, June 30 - 10 a.m. to 5 p.m. We welcome you to join us in support of The Mendocino Art Center for this fabulous garden tour and fundraiser. Tickets are available through the MACís website.
Saturday Strolls & Plant Chats 2018!
Saturdays at 2 p.m. July 14th and 28th, August 18th, and September 15th. Stroll with Horticulturalist Deborah Whigham, sip iced tea, nibble on tasty snacks & take home helpful gardening tips & tricks!
Current Staff's Favorite Plant