Catalog
Order the Catalog printed on genuine paper for $2.
Add to Cart
Digging Dog Nursery
a retail and mail order plant nursery specializing in unusual and hard to find perennials, ornamental grasses, shrubs, trees, and vines.
31101 Middle Ridge Rd.
Albion, CA 95410
phone:
(707) 937-1130
fax:
(707) 937-2480
Visit Us!
Summer Hours:
Wednesday–Saturday: 10am–4pm
Cotinus (Smoke Bush)
at Digging Dog
Including Cotinus 'Grace', Cotinus 'Golden Spirit', and Cotinus coggygria 'Young Lady'

Cotinus
Smoke Bush
With prolific and large ultra-fluffy plumes, packed full of shell pink and maroon flowers, winsome bluish green foliage and a compact multistemmed hearty habit, what's not to love about this daydream? Its over-the-top floriferous display and fiery scarlet autumn encore were first observed more than 50 years ago at Michigan's Newport Nursery and subsequently patented in 1959. Highly prized by horticulturists and savvy gardeners alike, 'Daydream' promises to lull your senses when ensconced near cohorts such as Hydrangea quercifolia 'Ruby Slippers' and Panicum 'Warrior'.
Blooms July–August.
Size: 8' 0"–10' 0" high x 8' 0"–10' 0" wide; hardy to zone 5.
Cotinus coggygria 'Daydream' (S-0757)
SOLD OUT!
Email me when this plant is available
If you've lusted after a Cotinus but didn't feel like you had the room, consider this floriferous smaller statured Smoke Bush. Compact slow growing stems plus rounded glossy green leaves elevate a cream-tinged pink frothy mass of colossal flower pouffes. The astonishing floral presentation unfurls at an earlier age than most Cotinus, while the brilliant orange and red fall foliage vitalizes the late season garden. Developed by Dutch breeder, Hendrik Kolster, easily managed 'Young Lady' looks splendid in a good-sized container, ensconced near a bench and anywhere else that is tight on space.
Blooms May-July
Size: 4' 0"–6' 0" high x 4' 0"–6' 0" wide; hardy to zone 5.
Cotinus coggygria 'Young Lady' (S-0786)
Each $14.25
Add to Cart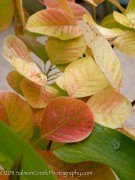 Hallmarked by a lambent-leafed spectacle bridging three seasons and signature gauzy panicles, this new upright Cotinus makes a dynamic mainstay for any garden. Young leaves emerge a lime-green color, turn a brilliant golden hue in summer, and then broadcast a glorious mélange of coral, orange and red in autumn.
An Adriana Sanders-van Harn introduction and a lively companion for blue flowering Clematis, Aconitums and Oakleaf Hydrangeas, 'Golden Spirit' develops as an open multistemmed deciduous shrub that appreciates average moisture, some protection from hot scorching sun and a pruning to maintain its size and good form. (pp#13,082)
Blooms July – August.
Size: 8' 0" high x 8' 0" wide; hardy to zone 5.
Cotinus 'Golden Spirit' (S-0734)
Each $14.75
Add to Cart
Smoke Bush
An arresting beacon as the sun casts a ruby glow through its purple-black leaves, 'Grace' inherits her elegance from Cotinus coggygria 'Velvet Cloak' and Cotinus obovatus. The sprays of tiny deep pink flowers throw a smoky, wine-colored fog over its robust form, and a close glance reveals bright yellow at the center of each bloom. Lovely in contrast with the silver foliage of Teucrium fruticans (Select Form), 'Grace' conveys a stately presence matched by few other plants.
Blooms July–August.
Size: 12' 0" high x 12' 0" wide; hardy to zone 5.
Cotinus 'Grace' (S-0394)
Each $14.25
Add to Cart
Current Staff's Favorite Plant