Catalog
Order the Catalog printed on genuine paper for $2.
Add to Cart
Digging Dog Nursery
a retail and mail order plant nursery specializing in unusual and hard to find perennials, ornamental grasses, shrubs, trees, and vines.
31101 Middle Ridge Rd.
Albion, CA 95410
phone:
(707) 937-1130
fax:
(707) 937-2480
Visit Us!
Summer Hours:
Wednesday–Saturday: 10am–4pm
Corylopsis
at Digging Dog
Including Corylopsis pauciflora, and Corylopsis spicata 'Aurea'

Corylopsis
Buttercup Winter Hazel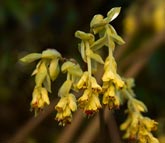 This choice delicate shrub will grace a woodland garden with the scent and sight of primrose yellow blooms on 3 in. racemes. The bristle-toothed leaves, which cluster densely on gently arching branches, are smaller than others in the genus. Long lasting as a cut flower, Buttercup Winter Hazel is irresistible with an understory of early flowering blue Brunnera.
Blooms March–April.
Size: 5' 0" high x 8' 0" wide; hardy to zone 6.
Corylopsis pauciflora (S-0028)
Each $13.50
Add to Cart
Golden Winter Hazel
Though Winter Hazel's dangling chains of primrose yellow flowers are always a much anticipated, late winter delicacy, this new artful cultivar offers an additional radiant bonus. Lovely butterscotch colors bathe the rounded deciduous foliage, which emerges with red and orange tints, matures quickly to canary yellow and dons saffron and pumpkin shades for fall. All this lambent splendor embellishes layered, zig-zagging and gracefully arching branches. Favored by hummingbirds and bees, 'Aurea' can be situated in a shady open setting, where it sheds light on deep green companion shrubs and perennial shade aficionados such as Omphalodes, Corydalis or ferns.
Blooms March–April
Size: 6' 0" high x 6' 0" wide; hardy to zone 6.
Corylopsis spicata 'Aurea' (S-0800)
Each $13.50
Add to Cart
Saturday Strolls & Plant Chats 2018!
Saturdays at 2 p.m. July 14th and 28th, August 18th, and September 15th. Stroll with Horticulturalist Deborah Whigham, sip iced tea, nibble on tasty snacks & take home helpful gardening tips & tricks!
Current Staff's Favorite Plant