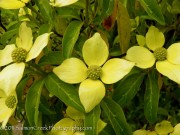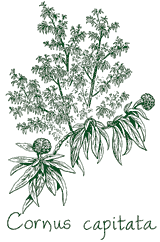 An elegant, large evergreen shrub or small tree, this slow growing Dogwood is a perfect anchor for the shrubby border. Handsome, curved leathery leaves with light green veins provide a pleasing texture and turn bronze in the winter months. Buttonlike flower heads surrounded by creamy yellow bracts precede the long lasting, prominent, pinkish red strawberry-shaped fruit that appears in November and can be brought inside as a colorful complement to holiday greenery.
Blooms June
Size: 16' 0" high x 8' 0" wide.
Hardy to zone 8.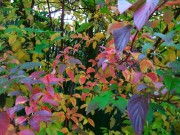 With common names like Hart's Rouges, Kinnikinnik and Shoemack, who would expect this North American riparian native to be a vibrant beauty igniting the winter landscape? 'Cardinal' sculpts an unflappable, extremely cold-hardy multi-stemmed shrub that has a lot to offer: fiery red-hued stems in winter, flat-topped clusters of petite white flowers in spring, creamy white summertime fruit, and dark green deciduous foliage manifesting a purple-red fall display.
Beloved by gardeners, birds and the azure butterfly, the Red Osier Dogwood prefers rich, somewhat moist soil, but tolerates a variety of sites and can be ensconced near Acer griseum for an intriguing blend of colors and textures.
Trim roots to remove unwanted suckers and prune 30% of the old wood in early spring to stimulate brilliant new growth.
Blooms August – September.
Size: 6' 0" – 8' 0" high x 6' 0" – 8' 0" wide.
Hardy to zone 3.