Catalog
Order the Catalog printed on genuine paper for $2.
Add to Cart
Digging Dog Nursery
a retail and mail order plant nursery specializing in unusual and hard to find perennials, ornamental grasses, shrubs, trees, and vines.
31101 Middle Ridge Rd.
Albion, CA 95410
phone:
(707) 937-1130
fax:
(707) 937-2480
Visit Us!
Summer Hours:
Wednesday–Saturday: 10am–4pm
Cornus (Dogwood)
at Digging Dog
Including Cornus capitata, and Cornus sericea 'Cardinal'

Cornus
Dogwood
View a slideshow of plant images from this genus
Evergreen Dogwood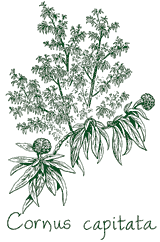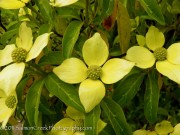 An elegant, large evergreen shrub or small tree, this slow growing Dogwood is a perfect anchor for the shrubby border. Handsome, curved leathery leaves with light green veins provide a pleasing texture and turn bronze in the winter months. Buttonlike flower heads surrounded by creamy yellow bracts precede the long lasting, prominent, pinkish red strawberry-shaped fruit that appears in November and can be brought inside as a colorful complement to holiday greenery.
Blooms June
Size: 16' 0" high x 8' 0" wide; hardy to zone 8.
Cornus capitata (S-0364)
Each $14.00
Add to Cart
Red Osier Dogwood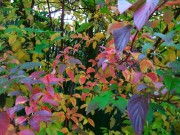 With common names like Hart's Rouges, Kinnikinnik and Shoemack, who would expect this North American riparian native to be a vibrant beauty igniting the winter landscape? 'Cardinal' sculpts an unflappable, extremely cold-hardy multi-stemmed shrub that has a lot to offer: fiery red-hued stems in winter, flat-topped clusters of petite white flowers in spring, creamy white summertime fruit, and dark green deciduous foliage manifesting a purple-red fall display.
Beloved by gardeners, birds and the azure butterfly, the Red Osier Dogwood prefers rich, somewhat moist soil, but tolerates a variety of sites and can be ensconced near Acer griseum for an intriguing blend of colors and textures.
Trim roots to remove unwanted suckers and prune 30% of the old wood in early spring to stimulate brilliant new growth.
Blooms August – September.
Size: 6' 0"–8' 0" high x 6' 0"–8' 0" wide; hardy to zone 3.
Cornus sericea 'Cardinal' (S-0733)
Each $13.00
Add to Cart
Garden Conservancy Open Day at Digging Dog!
Saturday, June 23 - 10 a.m. to 5 p.m. Digging Deeper Ė Join Patricia Smyth, owner of Essence of the Tree, for a Japanese maple container demonstration. Enjoy a guided tour of the Private Gardens of Deborah Whigham and Gary Ratway, adjacent to Digging Dog Nursery in Albion, CA; free with $7.00 garden admission. Tickets are available via
this link
or at Digging Dog Nursery. Plant shopping welcome!
Mendocino Art Center (MAC) Garden Tour!
Saturday, June 30 - 10 a.m. to 5 p.m. We welcome you to join us in support of The Mendocino Art Center for this fabulous garden tour and fundraiser. Tickets are available through the MACís website.
Saturday Strolls & Plant Chats 2018!
Saturdays at 2 p.m. July 14th and 28th, August 18th, and September 15th. Stroll with Horticulturalist Deborah Whigham, sip iced tea, nibble on tasty snacks & take home helpful gardening tips & tricks!
Current Staff's Favorite Plant