Catalog
Order the Catalog printed on genuine paper for $2.
Add to Cart
Digging Dog Nursery
a retail and mail order plant nursery specializing in unusual and hard to find perennials, ornamental grasses, shrubs, trees, and vines.
31101 Middle Ridge Rd.
Albion, CA 95410
phone:
(707) 937-1130
fax:
(707) 937-2480
Visit Us!
Summer Hours:
Wednesday–Saturday: 10am–4pm
Choisya
at Digging Dog
Including Choisya 'Aztec Pearl', and Choisya x dewitteana 'Limo'

Choisya
Valued for its fragrant flowers and aromatic, evergreen foliage, this elegant small shrub is a hybrid bred to life by Peter Moore, Hillier's propagator. The white blossoms burst forth in profuse clusters from pink buds. Almost almond in scent, they are hosted terminally on slender, glossy and trifoliate dark green leaflets.
Resistant to deer, 'Aztec Pearl's handsome rounded visage will form a close-knit and finely textured low screen or informal blooming hedge in your garden.
Blooms June–July.
Size: 4' 0"–5' 0" high x 4' 0" wide; hardy to zone 8.
Choisya 'Aztec Pearl' (S-0562)
Each $10.50
Add to Cart
Goldfingers Mexican Orange
Sharing the same Choisya arizonica and Choisya ternata lineage plus breeder (gifted British horticulturalist Peter Moore) as 'Aztec Pearl', this dazzling evergreen cultivar is similar to its green-leafed relation save for its lambent gold dusted foliage. Large citrus-scented clusters of terminal white blooms decorate the polished palmately divided leathery leaves that emit a strong aroma. Bushy, rounded and generally pest-free, 'Limo's handsome mien serves as a brilliant counterpoint against dark greenery, plus savors dappled light and free draining locations.
Blooms March–May
Size: 3' 0"–4' 0" high x 3' 0"–4' 0" wide. 7b
Choisya x dewitteana 'Limo' (S-0790)
Each $10.00
Add to Cart
Garden Conservancy Open Day at Digging Dog!
Saturday, June 23 - 10 a.m. to 5 p.m. Digging Deeper Ė Join Patricia Smyth, owner of Essence of the Tree, for a Japanese maple container demonstration. Enjoy a guided tour of the Private Gardens of Deborah Whigham and Gary Ratway, adjacent to Digging Dog Nursery in Albion, CA; free with $7.00 garden admission. Tickets are available via
this link
or at Digging Dog Nursery. Plant shopping welcome!
Mendocino Art Center (MAC) Garden Tour!
Saturday, June 30 - 10 a.m. to 5 p.m. We welcome you to join us in support of The Mendocino Art Center for this fabulous garden tour and fundraiser. Tickets are available through the MACís website.
Saturday Strolls & Plant Chats 2018!
Saturdays at 2 p.m. July 14th and 28th, August 18th, and September 15th. Stroll with Horticulturalist Deborah Whigham, sip iced tea, nibble on tasty snacks & take home helpful gardening tips & tricks!
Current Staff's Favorite Plant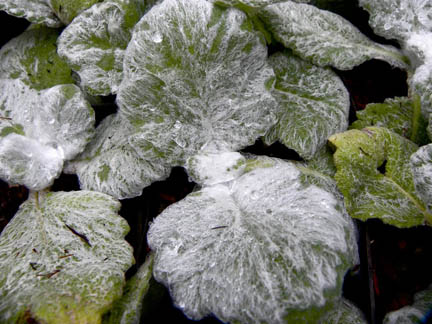 Customer Comment:
"Thank you for your continued great service and excellent plants.... all the plants arrived in perfect condition. Healthy, and ready to bloom...the primrose produced a beautiful flower, just two weeks after arrival! We have always been impressed with the careful packaging, size and hardiness of your plant stock. We ordered Alstroemeria many years ago that have flowered every year, and are more beautiful with time. Thanks again!"
~Michele in Maryland
view Digging Dog's comments with Dave's Garden (The Garden Watchdog)