Catalog
Order the Catalog printed on genuine paper for $2.
Add to Cart
Digging Dog Nursery
a retail and mail order plant nursery specializing in unusual and hard to find perennials, ornamental grasses, shrubs, trees, and vines.
31101 Middle Ridge Rd.
Albion, CA 95410
phone:
(707) 937-1130
fax:
(707) 937-2480
Visit Us!
Summer Hours:
Wednesday–Saturday: 10am–4pm
Chaenomeles (Quince)
at Digging Dog
Including Chaenomeles x superba 'Cameo', and Chaenomeles x superba 'Crimson and Gold'

Chaenomeles
Quince
Quince were once coined "one of the most precious and invaluable of the early flowering shrubs" by British author, Mrs. C. W. Earle, so it's no surprise 'Cameo' headlines many gardeners' top ten lists. Heralding winter's end, gorgeous double flowers with soft apricot pink shades are poised in stalkless clusters on thick, springy bare branches. Later, fine-toothed deciduous foliage hosts pleasantly perfumed edible reddish yellow fruit, commonly utilized for delicious preserves and as a Chinese remedy for inflammation since 500 A. D. Acquiescent to drought and clay soil, though happiest when allotted a sunny well-drained site, this preeminent cultivar crafts a dense, compact thicket that can be easily maintained along a trail or dramatically spotlit against a wall.
Blooms March–April
Size: 4' 0"–5' 0" high x 3' 0"–5' 0" wide; hardy to zone 4.
Chaenomeles x superba 'Cameo' (S-0655)
Each $9.75
Add to Cart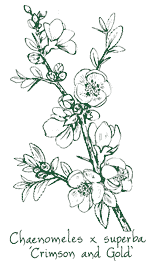 Coveted for its close-knit habit and galvanizing deep crimson-red flowers which flaunt showy golden anthers, this bold cultivar has been gracing gardens since 1939. Plentiful cup-shaped blooms are borne on naked twigs well before the lustrous dark green cloak of deciduous foliage appears. 'Crimson and Gold's low spreading, more easily managed habit can be espaliered against a wall, while its perfumed greenish yellow fruit makes a zesty addition to pies, jelly and lemonade.
Blooms March–April
Size: 2' 0"–3' 0" high x 2' 0"–3' 0" wide; hardy to zone 4.
Chaenomeles x superba 'Crimson and Gold' (S-0785)
Each $9.75
Add to Cart
Garden Conservancy Open Day at Digging Dog!
Saturday, June 23 - 10 a.m. to 5 p.m. Digging Deeper Ė Join Patricia Smyth, owner of Essence of the Tree, for a Japanese maple container demonstration. Enjoy a guided tour of the Private Gardens of Deborah Whigham and Gary Ratway, adjacent to Digging Dog Nursery in Albion, CA; free with $7.00 garden admission. Tickets are available via
this link
or at Digging Dog Nursery. Plant shopping welcome!
Mendocino Art Center (MAC) Garden Tour!
Saturday, June 30 - 10 a.m. to 5 p.m. We welcome you to join us in support of The Mendocino Art Center for this fabulous garden tour and fundraiser. Tickets are available through the MACís website.
Saturday Strolls & Plant Chats 2018!
Saturdays at 2 p.m. July 14th and 28th, August 18th, and September 15th. Stroll with Horticulturalist Deborah Whigham, sip iced tea, nibble on tasty snacks & take home helpful gardening tips & tricks!
Current Staff's Favorite Plant