Centaurea (Knapweed)
at Digging Dog
Including Centaurea atropurpurea, Centaurea macrocephala, Centaurea montana, Centaurea pulcherrima, and Centaurea ruthenica

Centaurea
Knapweed
Centaurea's heritage extends all the way back to ancient Greek mythology when Achilles's wise teacher, Chiron the Centaur was wounded by one of Hercules' poisoned arrows and subsequently cured by this herb's miraculous healing powers.
Equally at home in a present day border or a more naturalized setting, our hardy undemanding selections paint a bright picture inside as well. The long lasting boisterous blooms are celebrated cut flowers, bringing high-spirited accents to both fresh and dried arrangements.
Appreciative of well draining "sweet" soil, the ever amenable Knapweed withstands some drought, but not wet, wintertime feet.
View a slideshow of plant images from this genus
Milling about the mountainous meadows of Europe's Carpathian Range, this garden rarity spotlights large ruby red thistle-styled blooms bolstered by impressively tall sturdy stems. Even before the marvelous flowers appear, intricately detailed buds with brown-tipped green scales and curvy white spines beg a closer glance. A delicate-looking rosette of long feathery leaves—silver-gray and narrowly cut—completes the picture, while yellow blooming Centaurea ruthenica makes an ideal companion.
Blooms June – August.
Size: 4' 0" high x 2' 0" wide; hardy to zone 5.
Centaurea atropurpurea (P-1646)
Each $8.00
Add to Cart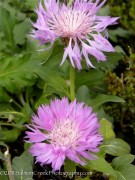 Cradled by silvery, paper-thin bracts, a vivacious summertime showing of deep rose-pink thistlelike blooms with pale centers promises a fall encore when deadheaded regularly.
Long green leaves—deeply divided, lobed and powdery white beneath—line stiff-backed stems, bolstering the fragrant high energy performance.
A magnet for butterflies and gardeners alike, this carefree Centaurea exhibits a compact, not-so-tall profile that can be featured atop a wall or near the border's front, obliges dry soils and keeps us coming back well after the flowers have faded to relish its long lasting, decorative seed heads.
Blooms July–August.
Size: 2' 0" high x 18" wide; hardy to zone 4.
Centaurea hypoleuca 'John Coutts' (P-1392)
SOLD OUT!
Email me when this plant is available
Great Golden Knapweed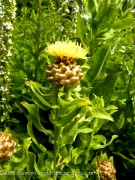 An overgrown, sun-struck relative of the Bachelor Button, this "big-headed" native of the Caucasus Mountains has so many good qualities you'll soon be inviting it into your garden. A medium green, rowdy mass of oversized, wavy-edged lanceolate leaves attached to stout stems gives way to intriguing, rust-colored buds as big as a chicken's egg.
Scaled by papery bracts, the bud's rotund profile opens to offer a large, bright yellow thistle, a cheerful mop of threadlike petals bursting with sunshine and color. Back this easy-to-grow cut flower with Cotinus 'Grace' and surround it with Nepeta 'Pool Bank'.
Blooms late July–mid-September.
Size: 3' 0"–4' 0" high x 2-1/2' wide; hardy to zone 4.
Centaurea macrocephala (P-0834)
Each $8.00
Add to Cart
Coveted by florists, bees and butterflies, the silken starburst of finely fringed blackberry-colored petals plus embroidered dark buds creates a stylish contrast against silver-haired gray-green lanceolate foliage. 'Black Sprite's exotic, long blooming tubular flowers sojourn on upright stems above a low growing leafy mound that tolerates dry conditions once established, prefers good drainage and slightly alkaline soil as well as a periodic cut back. (pp #23,250)
Blooms May–June
Size: 18" high x 18"–2' 0" wide; hardy to zone 3.
Centaurea montana 'Black Sprite' (P-1928)
Each $8.00
Add to Cart
Ringed with spidery ultra-fringed tubular florets, the dark-as-midnight blooms are presented singularly, strutting sumptuous reddish purple shades on tall staunch stems. Black embroidered buds, intriguing seed heads and silver felted new growth further enhance the tidy clump of broadly lanceolate green leaves that sport minute pearly hairs. A fan of lean chalky sites, this fanciful bloomer appreciates periodic pruning and works best as a filler in a Mediterranean planting, cottage garden or a naturalized setting, where it will bring on the bees, butterflies and other admirers.
Blooms May–June.
Size: 18" high x 18"–2' 0" wide; hardy to zone 3.
Centaurea montana 'Jordy' (P-1797)
Each $8.00
Add to Cart
Pink Bachelor Button
Touted as one of the prettiest species of the genus, Centaurea pulcherrima celebrates brilliant rose-colored flowers with silvery yellow bracts unfurling from large papery buds. This rarely offered robust perennial hosts handsome narrow pinnate grayish green leaves with hairy white undersides. Endemic to the Caucasus Mountains, Pink Bachelor Button makes a sterling prospect for stone walls, sun bathed rock gardens or even a bouquet.
Blooms June–August
Size: 16" high x 2' 0" wide; hardy to zone 4.
Centaurea pulcherrima (P-1876)
Each $8.00
Add to Cart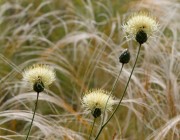 "A border flower of the highest merit," is how British horticulturist, William Robinson once described this awe-inspiring Centaurea, and we couldn't agree more! Crowning long straight green stems, the fluffy thistle-style heads in unique pale citron yellows and tissue-thin buff-colored bracts will attract more than a few admirers. These ample-sized, sublime-for-cutting blooms heighten a graceful ferny pedestal of rich green pointed leaves with gray undersides, narrow silhouettes and a refined countenance. Appreciative of adequately draining soil, the ever amenable Knapweed withstands some drought, but not wet winter feet.
Blooms July–September.
Size: 3' 0"–4' 0" high x 2' 0" wide; hardy to zone 5.
Centaurea ruthenica (P-1329)
Each $8.00
Add to Cart
Garden Conservancy Open Day at Digging Dog!
Saturday, June 23 - 10 a.m. to 5 p.m. Digging Deeper – 1 pm - Enjoy a guided tour of the Private Gardens of Deborah Whigham and Gary Ratway, adjacent to Digging Dog Nursery in Albion, CA; free with $7.00 garden admission. 3 pm - Join Patricia Smyth, owner of Essence of the Tree, for a Japanese maple container demonstration. Tickets are available via
this link
or at Digging Dog Nursery. Plant shopping welcome!
Mendocino Art Center (MAC) Garden Tour!
Saturday, June 30 - 10 a.m. to 5 p.m. We welcome you to join us in support of The Mendocino Art Center for this fabulous garden tour and fundraiser. Tickets are available through the MAC's website.
Saturday Strolls & Plant Chats 2018!
Saturdays at 2 p.m. July 14th and 28th, August 18th, and September 15th. Stroll with Horticulturalist Deborah Whigham, sip iced tea, nibble on tasty snacks & take home helpful gardening tips & tricks!
Current Staff's Favorite Plant