Catalog
Order the Catalog printed on genuine paper for $2.
Add to Cart
Digging Dog Nursery
a retail and mail order plant nursery specializing in unusual and hard to find perennials, ornamental grasses, shrubs, trees, and vines.
31101 Middle Ridge Rd.
Albion, CA 95410
phone:
(707) 937-1130
fax:
(707) 937-2480
Visit Us!
Summer Hours:
Wednesday–Saturday: 10am–4pm
Ceanothus
at Digging Dog
Including Ceanothus x delileanus 'Gloire de Versailles', and Ceanothus x pallidus 'Marie Simon'

Ceanothus
California Lilac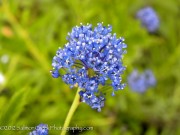 One of the oldest and most dazzling of all Ceanothus hybrids, 'Concha' premiers a spectacular spring display of deep cobalt blue clustered flowers unfurling from tight pinkish red buds. Gracefully arching branches can withstand light pruning and are clad in lustrous, small dark green textured leaves, which etch an attractive evergreen foil.
Persisting some 15 to 25 years in a well-drained site with little or no irrigation, but amiable to minimal summer water and heavier soils, this adaptable Ceanothus can be employed as a dense hedge, a specimen shrub or for erosion control on slopes. Birds savor its seeds and seek its stately shelter, while Mediterraneans make worthy companions.
Blooms April – May.
Size: 5' 0"–7' 0" high x 6' 0"–10' 0" wide; hardy to zone 7.
Ceanothus 'Concha' (S-0561)
SOLD OUT!
Email me when this plant is available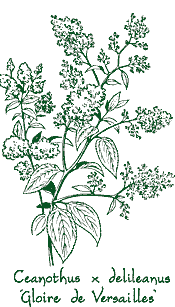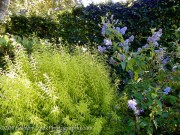 Large, finely toothed glossy green foliage bolsters profuse eye-catching panicles of scented, butterfly friendly powder-blue flowers. A prized outcome from a French breeding program, developed by crossing C. americanus and C. coeruleus, this unique long-blooming cultivar forges a handsome, rounded deciduous habit that handles hot humid weather, prefers moderate moisture and well-drained abodes plus resists rabbits and deer. Try planting it as a hedge or a specimen in a mixed border with white Lavender and yellow flowering Phlomis russeliana nearby and you'll see why it came to be called the 'Glory of Versailles'.
Blooms June –August
Size: 6' 0" high x 6' 0" wide; hardy to zone 6.
Ceanothus x delileanus 'Gloire de Versailles' (S-0191)
Each $10.25
Add to Cart
New Jersey Tea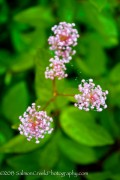 The heritage of this versatile hybrid is uncertain, but her reputation as a flirty, long blooming semi-evergreen is widespread. Amid speculation about an additional cross between x delileanus and the eastern species, Ceanothus ovatus, 'Marie Simon' is not adversely affected by summer watering, which is unusual for a Ceanothus.
Try planting her in the mixed border, where she flaunts a decidedly feminine display of fluffy rose-pink panicles and ornamental red seed capsules cushioned by wine-colored stems and long, serrated leaves.
Blooms June–October.
Size: 5' 0" high x 5' 0" wide; hardy to zone 6.
Ceanothus x pallidus 'Marie Simon' (S-0246)
Each $10.25
Add to Cart
Mendocino Art Center (MAC) Garden Tour!
Saturday, June 30 - 10 a.m. to 5 p.m. We welcome you to join us in support of The Mendocino Art Center for this fabulous garden tour and fundraiser. Tickets are available through the MAC's website.
Saturday Strolls & Plant Chats 2018!
Saturdays at 2 p.m. July 14th and 28th, August 18th, and September 15th. Stroll with Horticulturalist Deborah Whigham, sip iced tea, nibble on tasty snacks & take home helpful gardening tips & tricks!
Current Staff's Favorite Plant