Catalog
Order the Catalog printed on genuine paper for $2.
Add to Cart
Digging Dog Nursery
a retail and mail order plant nursery specializing in unusual and hard to find perennials, ornamental grasses, shrubs, trees, and vines.
31101 Middle Ridge Rd.
Albion, CA 95410
phone:
(707) 937-1130
fax:
(707) 937-2480
Visit Us!
Summer Hours:
Wednesday–Saturday: 10am–4pm
Carpinus (Hornbeam)
at Digging Dog
Including Carpinus betulus, and Carpinus coreana

Carpinus
Hornbeam
View a slideshow of plant images from this genus
European Hornbeam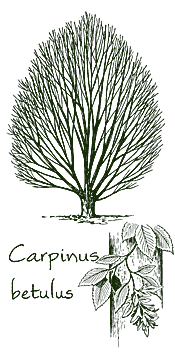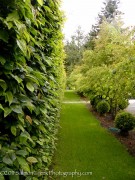 The deciduous European Hornbeam, with its handsome, densely arranged foliage, is renowned for making hedges. Also known for the hardness of its fine grained wood, it's used to manufacture the inner moving parts of pianos. Glistening, toothed and oval-shaped, the deep forest green leaves transmute to yellow in the fall against smooth gray bark inscribed by muscular, vertically aligned undulations. If clipping isn't your forté, don't worry because Carpinus naturally grows in a dense, pyramidal to rounded shape.
Aside from the classic elegance of the pleated foliage, Hornbeam also exhibits an overall hardiness, capable of withstanding wind, shearing, heavy pruning and clay soil. Try it as a hedge, windbreak, single specimen, or get wild and plant an allée, pleached or not. Deep Large Band. 10 feet in 10 years.
Blooms March.
Size: 40' 0"–60' 0" high x 20' 0"–30' 0" wide; hardy to zone 5.
Carpinus betulus (T-0004)
Each $18.25
Add to Cart
Korean Hornbeam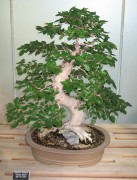 Cherished among bonsai devotees, this graceful multi-stemmed Korean native deserves a prominent place in more landscapes as a small-scale ornamental specimen. Pendulous branches taper into short shrubby, deep brown twigs that are infused with wine hues. Sporting a lustrous spring and summer sheen, the serrated tiny green deciduous leaves orchestrate a fantastic fall finale of flaming red, yellow and orange colors. Appreciative of some protection from hot afternoon sun, especially in dry locations, C. coreana's refined slow-growing visage can flourish near a bench, a terrace or even in a large container, while its strong growing roots can survive occasional drought. Grows slowly.
Blooms March
Size: 15' 0"–20' 0" high x 12' 0"–15' 0" wide; hardy to zone 5.
Carpinus coreana (T-0284)
Each $18.25
Add to Cart
Japanese Hornbeam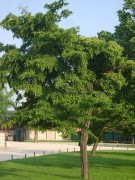 This stellar medium-sized Hornbeam promises to delight all year round. Hallmarking spring and summer, a winsome bevy of small, oval-shaped dark green serrated foliage sport prominent veins, soft yellow-green undersides and slender pointed tips. Long, pendent, bright green and red-tinged fruiting keys accompanied by cozy yellow and red foliage make attractive autumn features, while winter showcases pendulous branches and smooth pale patterned bark.
A rarely offered Japanese native introduced in 1914, the versatile Carpinus laxiflora can be grown as a landscape specimen or serves as an ideal bonsai candidate. 10' in 10 years. Large Band.
Blooms March.
Size: 30' 0" high x 20' 0"–25' 0" wide; hardy to zone 6.
Carpinus laxiflora (T-0260)
SOLD OUT!
Email me when this plant is available
Garden Conservancy Open Day at Digging Dog!
Saturday, June 23 - 10 a.m. to 5 p.m. Digging Deeper – Join Patricia Smyth, owner of Essence of the Tree, for a Japanese maple container demonstration. Enjoy a guided tour of the Private Gardens of Deborah Whigham and Gary Ratway, adjacent to Digging Dog Nursery in Albion, CA; free with $7.00 garden admission. Tickets are available via
this link
or at Digging Dog Nursery. Plant shopping welcome!
Mendocino Art Center (MAC) Garden Tour!
Saturday, June 30 - 10 a.m. to 5 p.m. We welcome you to join us in support of The Mendocino Art Center for this fabulous garden tour and fundraiser. Tickets are available through the MAC's website.
Saturday Strolls & Plant Chats 2018!
Saturdays at 2 p.m. July 14th and 28th, August 18th, and September 15th. Stroll with Horticulturalist Deborah Whigham, sip iced tea, nibble on tasty snacks & take home helpful gardening tips & tricks!
Current Staff's Favorite Plant