Catalog
Order the Catalog printed on genuine paper for $2.
Add to Cart
Digging Dog Nursery
a retail and mail order plant nursery specializing in unusual and hard to find perennials, ornamental grasses, shrubs, trees, and vines.
31101 Middle Ridge Rd.
Albion, CA 95410
phone:
(707) 937-1130
fax:
(707) 937-2480
Visit Us!
Summer Hours:
Wednesday–Saturday: 10am–4pm
Calamagrostis
at Digging Dog
Including Calamagrostis acutiflora, Calamagrostis brachytricha, and Calamagrostis foliosa

Calamagrostis
Extremely tough, undemanding and hardy, this truly all-purpose grass brings bold, erect lines to the garden spectrum.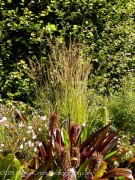 This distinctive newcomer is a variegated form of Calamagrostis 'Karl Foerster' first spotted by Steve Schmidt at American Ornamental Perennials. Showcasing dramatically striped foliage, the medium-sized clumps spring to life as a hefty white central band bordered by narrow green margins embellishes each blade. Topped with an airy aura of rose-tinged green plumes that later take on warm, golden hues, 'Avalanche's straight-up stance forges a compelling specimen, or when planted en masse, a boldly patterned screen. (PPAF)
Blooms May–January.
Size: 5' 0" high x 3' 0" wide. 4/5
Calamagrostis x acutiflora 'Avalanche' (G-0469)
Each $7.75
Add to Cart
Karl Foerster's Feather Reed Grass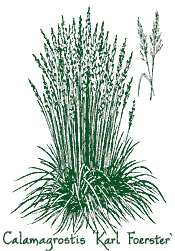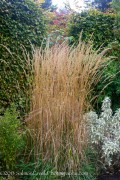 Named for pioneering German nurseryman Karl Foerster, this selection bears loose and airy 12 in. seed heads, which tighten to slender plumes by midsummer. Rising above 2 ft. clumps of narrow green foliage, the inflorescences create an ideal semitransparent veiling effect. Plant with deep green Viburnums to accentuate its golden flowering stems.
Blooms May–January.
Size: 5' 0" high x 3' 0" wide; hardy to zone 5.
Calamagrostis x acutiflora 'Karl Foerster' (G-0003)
Each $7.75
Add to Cart
Korean Feather Reed Grass
Warmed by rosy maroon plumes, Calamagrostis brachytricha is native to the moist woodlands of eastern Asia. The inflorescences stay open and feathery, even when they dry, and eventually pale to an elegant silvery gray. Magical both in an arrangement or outside when the wind blows, the panicles leap from a clump of glossy green, upright and arching blades. This warm season grass exhibits a smaller stature, making it well suited for a container.
Blooms September.
Size: 4' 0" high x 2' 0" wide; hardy to zone 4.
Calamagrostis brachytricha (G-0067)
Each $7.75
Add to Cart
The ultrafine white hairs lining arching medium green blades glisten with dew, while narrow, loosely feathered caramel-colored inflorescences loll above. Smaller-sized than C. x 'Karl Foerster' and well-suited for gardens short on space, this relatively new soft-looking Calamagrostis develops a versatile low maintenance clump that transmutes warm rosy amber hues in autumn. 'Cheju-do' can be featured as an elegant specimen, planted en masse around large shrubs or small trees and looks especially lovely skirting a Japanese Maple.
Blooms August–October
Size: 3' 0"–4' 0" high x 3' 0"–4' 0" wide; hardy to zone 5.
Calamagrostis x 'Cheju-do' (G-0570)
Each $7.75
Add to Cart
AVAILABLE SPRING 2018
Cape Mendocino Reed Grass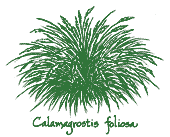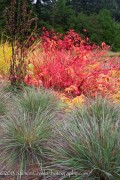 Garnished by violet tinges, low loose mounds of glaucous blue-gray blades generally remain throughout the year and set this cool season California native apart from other North American Calamagrostis species. Slender tapering pinkish purple panicles sojourn just above the relaxed foliage in a lovely fountain-like fashion and by early summer adopt luminous flaxen hues.
Cape Mendocino Reed Grass pouts when it's hot, appreciates summer irrigation and looks artful either as a large-scale ground cover or peppered throughout mixed borders and naturalized meadows.
Blooms May–November.
Size: 18" high x 2' 0" wide; hardy to zone 8.
Calamagrostis foliosa (G-0044)
Each $7.75
Add to Cart
Garden Conservancy Open Day at Digging Dog!
Saturday, June 23 - 10 a.m. to 5 p.m. Digging Deeper Ė Join Patricia Smyth, owner of Essence of the Tree, for a Japanese maple container demonstration. Enjoy a guided tour of the Private Gardens of Deborah Whigham and Gary Ratway, adjacent to Digging Dog Nursery in Albion, CA; free with $7.00 garden admission. Tickets are available via
this link
or at Digging Dog Nursery. Plant shopping welcome!
Mendocino Art Center (MAC) Garden Tour!
Saturday, June 30 - 10 a.m. to 5 p.m. We welcome you to join us in support of The Mendocino Art Center for this fabulous garden tour and fundraiser. Tickets are available through the MACís website.
Saturday Strolls & Plant Chats 2018!
Saturdays at 2 p.m. July 14th and 28th, August 18th, and September 15th. Stroll with Horticulturalist Deborah Whigham, sip iced tea, nibble on tasty snacks & take home helpful gardening tips & tricks!
Current Staff's Favorite Plant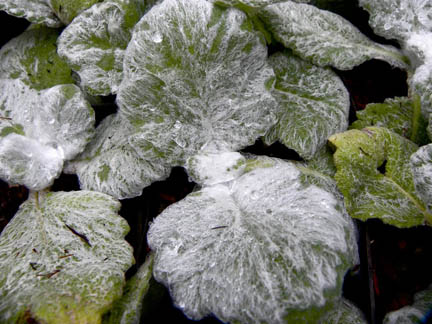 Customer Comment:
"I received my order yesterday, and I wanted you to know that everything looks wonderful. All the plants were a good size and healthy. I really appreciate that you sent it so quickly and that you have everything in stock that I was looking for. I will definitely order from you folks again."
~Debbie in Ohio
view Digging Dog's comments with Dave's Garden (The Garden Watchdog)