Catalog
Order the Catalog printed on genuine paper for $2.
Add to Cart
Digging Dog Nursery
a retail and mail order plant nursery specializing in unusual and hard to find perennials, ornamental grasses, shrubs, trees, and vines.
31101 Middle Ridge Rd.
Albion, CA 95410
phone:
(707) 937-1130
fax:
(707) 937-2480
Visit Us!
Summer Hours:
Wednesday–Saturday: 10am–4pm
Buxus (Boxwood)
at Digging Dog
Including Buxus sempervirens 'Blauer Heinz', and Buxus sempervirens 'Graham Blandy'

Buxus
Boxwood
Littleleaf Boxwood
Hallmarked by a well groomed verdure, the low growing 'Green Beauty' is second-to-none for hedging or edging, accenting the rock garden or making an architectural statement just about anywhere. Polished, small rounded leaves maintain a crisp, dark green look all year long while cloaking the upright, yet compact semidwarf form.
This versatile evergreen can handle hot and cold weather and makes a plucky counterpoint amid Westringia 'Smokey' or Teucrium fruticans (Select Form).
Size: 4' 0"–6' 0" high x 4' 0" wide; hardy to zone 6.
Buxus microphylla japonica 'Green Beauty' (S-0650)
SOLD OUT!
Email me when this plant is available
Applauded as one of the speciesí premier forms, this good-looking chance mutation of Buxus sempervirens 'Suffruticosa' was discovered by its namesake in Germanyís Herrenhausen Royal Garden in the late 1980s. Hardier than other sempervirens, the distinctive dwarf habit assumes a rounded, strictly upright and compact shape with densely set small shiny evergreen leaves, sporting unique frosted blue-green hues. A dapper first-class choice for low borders, diminutive hedges, rock work and pots, 'Blauer Heinz' favors adequately moist, well-drained soil and requires little pruning or maintenance.
Size: 2-1/2' high x 2-1/2' wide; hardy to zone 5.
Buxus sempervirens 'Blauer Heinz' (S-0783)
Each $9.00
Add to Cart
Introduced in 1949 by the University of Virginia's Blandy Experimental Farm, this aristocratic evergreen Boxwood struts a suave, strongly upright narrow silhouette. Dense erect branches are clothed from the ground up with small, polished oval leaves that emphasize new springtime, soft green growth and when mature, rich dark emerald tones. A first-class choice for any garden, especially where space is limited, 'Graham Blandy's impeccable columnar habit can be employed as a specimen, or as a sentinel to denote a threshold, or it can be staged throughout a stylized meadow.
Size: 6' 0"–9' 0" high x 18"–2' 0" wide; hardy to zone 5.
Buxus sempervirens 'Graham Blandy' (S-0834)
Each $9.25
Add to Cart
This handsome Boxwood is distinguished by a lustrous mass of tiny dark green leathery leaves, maintaining superb winter color then transmuting a pronounced bluish cast in spring, while dressing a hardy, broad spreading habit. 'Vadar Valley' thrives with sun or shade, stays fairly short and rounded, grows at a moderate pace, and is the perfect choice for foundation plantings, low hedges or grouped statements, anywhere its emerald hues can shine.
Size: 2-1/2' high x 5' 0" wide; hardy to zone 5.
Buxus sempervirens 'Vadar Valley' (S-0710)
SOLD OUT!
Email me when this plant is available
Korean Boxwood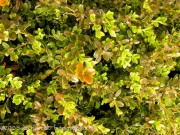 With a tailored demeanor clipped or not, this undemanding Boxwood is second-to-none for hedging, edging, accenting the rockery or sculpting a topiary or bonsai specimen. Young downy branches and lustrous, small elliptical leaves in crisp dark greens define the dwarf rounded form that grows slowly and a little less densely.
A reliably cold tolerant evergreen, it can be planted as a low and refined verdant border, allowing more rambunctious plants to exuberantly spill over.
Size: 2' 0" high x 20" wide; hardy to zone 4.
Buxus sinica var. insularis (S-0669)
SOLD OUT!
Email me when this plant is available
Mendocino Art Center (MAC) Garden Tour!
Saturday, June 30 - 10 a.m. to 5 p.m. We welcome you to join us in support of The Mendocino Art Center for this fabulous garden tour and fundraiser. Tickets are available through the MACís website.
Saturday Strolls & Plant Chats 2018!
Saturdays at 2 p.m. July 14th and 28th, August 18th, and September 15th. Stroll with Horticulturalist Deborah Whigham, sip iced tea, nibble on tasty snacks & take home helpful gardening tips & tricks!
Current Staff's Favorite Plant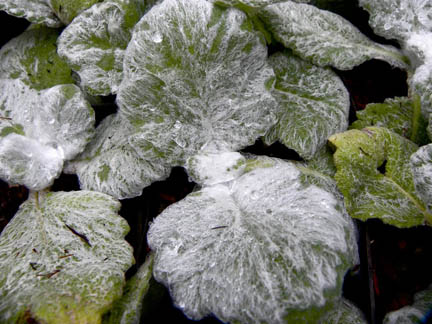 Customer Comment:
"I have wanted to write for weeks to thank you for the wonderful plants you sent in April!! .... Have mail ordered for over 20 years, and I had to tell you how impressed I am with your plants. All have moved into my garden with ease and bloomed....My largest order next spring will be with Digging Dog!!"
~Mary Kay in New York
view Digging Dog's comments with Dave's Garden (The Garden Watchdog)