Catalog
Order the Catalog printed on genuine paper for $2.
Add to Cart
Digging Dog Nursery
a retail and mail order plant nursery specializing in unusual and hard to find perennials, ornamental grasses, shrubs, trees, and vines.
31101 Middle Ridge Rd.
Albion, CA 95410
phone:
(707) 937-1130
fax:
(707) 937-2480
Visit Us!
Summer Hours:
Wednesday–Saturday: 10am–4pm
Bouteloua
at Digging Dog
Including Bouteloua curtipendula, Bouteloua gracilis, Bouteloua gracilis 'Blonde Ambition', and Bouteloua gracilis 'Hachita'

Bouteloua
Sideoats Grama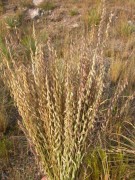 For its distinctive inflorescences, colorful fall foliage and phenomenal drought tolerance, this Midwestern denizen reigns supreme. Purplish oatlike spikelets, uniformly draped along one side of the upright or arching stalks, eventually blanch to a straw hue. Enduring a wide range of soils and difficult sites, Side Oats Grama forms erect, wiry light green clumps that broadcast violet, orange and red autumnal shades.
Planted in drifts, meandering amid other medium statured grasses and smaller perennials, a dramatic statement is yours to enjoy, while the birds and butterflies feast on the fodder.
Blooms June – November.
Size: 2' 0"–3' 0" high x 12" wide; hardy to zone 3.
Bouteloua curtipendula (G-0513)
Each $7.75
Add to Cart
Mosquito Grass
We wish more plants were like this one! This North American native is tough, drought tolerant, and adds delicacy and movement wherever it's placed. Slightly iridescent, Mosquito Grass offers tiny seed heads borne atop thin, wiry stems. Resembling aerial minnows, the inflorescences dart above 1 ft. clumps of dense, narrow blades. Plant them next to a garden seat or steps where they can be enjoyed at close range.
Blooms June–October.
Size: 18" high x 12" wide; hardy to zone 4.
Bouteloua gracilis (G-0002)
Each $7.75
Add to Cart
Blue Gamma Grass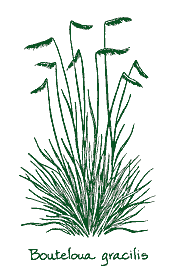 Taller and more energetic than the species, 'Blonde Ambition's dense finely hewn tufts provide a blue-green foil for cut-flower-perfect inflorescences, which grow at 90° angles and summon our attention well into winter. The large chartreuse seed heads broadcast eye-catching platinum blonde shades once they mature, waving like splendid flags atop stiff 2 ½ ft. slender stalks. Discovered by David Salmon of High Country Gardens as a chance sport in a Santa Fe, New Mexico garden, this tough heady grass struts golden brown, orange and red foliar autumn colors and shimmers when interwoven with Sesleria and flanked by Hydrangea paniculata 'Mega Mindy'. (pp#22,048)
Blooms June–November.
Size: 2-1/2'–3' 0" high x 2-1/2'–3' 0" wide; hardy to zone 4.
Bouteloua gracilis 'Blonde Ambition' (G-0538)
Each $8.00
Add to Cart
Originally selected by the USDA for its mighty drought abiding persona, this small statured narrow bladed grass was collected in 1957 on the semi-arid plains south of Hachita, New Mexico. The alluring presentation of delicate reddish purple inflorescences morphs into glittery eyelash- shaped seed heads above a trim close-knit grayish green clump and belies 'Hachita's tough-guy reputation. Appealing to both birds and floral arrangers, Blue Gamma Grass resents poorly drained wet locales, tackles Black Walnut roots, shallow rocky soil, air pollution plus erosion, and can be nestled into the rockery, a more wild venue or employed as a mowable lawn substitute.
Blooms June–October
Size: 12"–20" high x 8"–12" wide; hardy to zone 3.
Bouteloua gracilis 'Hachita' (G-0553)
Each $7.75
Add to Cart
Current Staff's Favorite Plant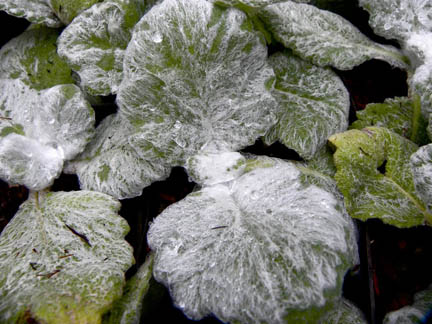 Customer Comment:
"I don't know how you folks do it, but the plants were in immaculate condition, cool and slightly damp upon arrival without a leaf out of place! ...Digging Dog deserves high praise for being able to accomplish such a feat from one sizzling hot coast to another."
~Kathie in Virginia
view Digging Dog's comments with Dave's Garden (The Garden Watchdog)