Catalog
Order the Catalog printed on genuine paper for $2.
Add to Cart
Digging Dog Nursery
a retail and mail order plant nursery specializing in unusual and hard to find perennials, ornamental grasses, shrubs, trees, and vines.
31101 Middle Ridge Rd.
Albion, CA 95410
phone:
(707) 937-1130
fax:
(707) 937-2480
Visit Us!
Summer Hours:
Wednesday–Saturday: 10am–4pm
Bergenia (Pigsqueak)
at Digging Dog
Including Bergenia varieties Magic Giant, Rosi Klose, Bressingham Ruby, Bressingham White, and 'Winter Glow' (Winterglut)

Bergenia
Pigsqueak
You can experience how this no-trouble rhizomatous ground cover earned its common name if, following a rain, you rub a leaf between your fingers—but it is Bergenia's fine firm foliage mass and Saxifrage-like, waxy flowers that justifies its presence in the garden. With bold, rounded outlines, the great, glossy, and nearly evergreen, rich green leaves are a handsome backdrop for dense heads of lovely spring blooms that rise above the cabbagelike rosette on stalwart, red-tinted stems.
In winter, leaves become tinged with burgundy and are most welcome in holiday arrangements. Bergenia endures neglect, poor soil and some drought, but performs best in part shade.
View a slideshow of plant images from this genus
A 1972 Eric Smith hybrid raised at Britain's Hadspen House, this rarely offered Bergenia emphasizes arresting contrast. Enhanced by rose-blushed centers, flamboyant red calyces and hefty burgundy-hued stalks, the massive, densely set flower heads initially develop a soft pink coloration, which dramatically matures to white above thick deep green leaves. The tailored evergreen clump can be planted in drifts as an easily grown ground cover, broadcasting bold lustrous texture plus warm coppery red winter highlights.
Blooms April–May
Size: 16" high x 18" wide; hardy to zone 3.
Bergenia 'Bach' (P-1921)
Each $8.25
Add to Cart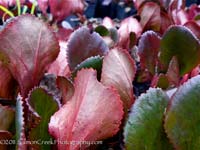 Amidst a compact base of lustrous greenery, glistening deep rosy red Hyacinth-like blooms herald the spring and later, leaves transmute bronzed wine tints that warm winters' somber landscape. With its tidy habit, this gem is well-suited for edging a path or for gracing a container at any time of year. (PP#7344)
Blooms April–May.
Size: 16" high x 18" wide; hardy to zone 4.
Bergenia 'Bressingham Ruby' (P-1248)
Each $8.25
Add to Cart
AVAILABLE SPRING 2018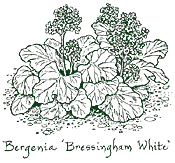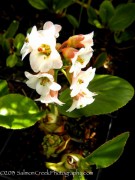 Distinguished for the pure white color of its mature blossoms, its amazing floriferous nature, and for its leafy robustness, 'Bressingham White' was bred by British horticulturist Alan Bloom. To create an eye-catching contrast of color and texture, combine this Bergenia's broad leaves with the ferny foliage of Corydalis 'Blue Panda'.
Blooms April–May.
Size: 12"–15" high x 18" wide; hardy to zone 4.
Bergenia 'Bressingham White' (P-1170)
Each $8.25
Add to Cart
AVAILABLE SPRING 2018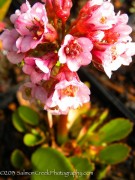 Big varnished rosettes of thick, extra large rounded evergreen foliage beams purplish bronze colors that indeed work magic on a bleak winter landscape. A verdant foil the rest of the year, dark green leaves reach up to a foot long and 9 in. across, while supporting dense rosy pink flower clusters, defined by red centers, white stamens and open starry faces on stout wine-hued stems. Bedazzled with jewel tones and texture galore, this hybrid Bergenia crafts an exceptional, easy care ground cover for moist poorly drained banks, stream sides or borders.
Blooms April–May
Size: 16" high x 18" wide; hardy to zone 3.
Bergenia 'Magic Giant' (P-1747)
Each $8.25
Add to Cart
AVAILABLE SPRING 2018
Though this cultivar is more diminutive than our other Bergenia selections, its year-round allure is huge. Narrow jade green leaves compile a gleaming evergreen base that launches lovely clusters of bright pink flowers, looking a bit like cherry blossoms, on thick burgundy-tinted stems. Introduced by German-born Anne Eskuche, 'Pink Dragonfly's enticements extend far beyond the perfectly proportioned blooms as unique plum red shades morph the foliage into a colorful winter spectacle.
Blooms April–May.
Size: 12"–15" high x 12"–18" wide; hardy to zone 4.
Bergenia 'Pink Dragonfly' (P-1865)
Each $8.25
Add to Cart
Highly regarded by British plantswoman Beth Chatto for their lovely presentation, the salmon-tinged rosy pink Hyacinth-like floral bells ring in spring with open flared mouths above a tight-knit smaller-sized foundation of gleaming spoon-shaped foliage. 'Rosi Klose's profuse uniquely hued blooms and verdant trouble-free disposition can enhance the rockery, a stone wall or pond's edge.
Blooms April–May
Size: 12" high x 15" wide; hardy to zone 4.
Bergenia 'Rosi Klose' (P-1204)
Each $8.25
Add to Cart
Garden Conservancy Open Day at Digging Dog!
Saturday, June 23 - 10 a.m. to 5 p.m. Digging Deeper Ė 1 pm - Enjoy a guided tour of the Private Gardens of Deborah Whigham and Gary Ratway, adjacent to Digging Dog Nursery in Albion, CA; free with $7.00 garden admission. 3 pm - Join Patricia Smyth, owner of Essence of the Tree, for a Japanese maple container demonstration. Tickets are available via
this link
or at Digging Dog Nursery. Plant shopping welcome!
Mendocino Art Center (MAC) Garden Tour!
Saturday, June 30 - 10 a.m. to 5 p.m. We welcome you to join us in support of The Mendocino Art Center for this fabulous garden tour and fundraiser. Tickets are available through the MACís website.
Saturday Strolls & Plant Chats 2018!
Saturdays at 2 p.m. July 14th and 28th, August 18th, and September 15th. Stroll with Horticulturalist Deborah Whigham, sip iced tea, nibble on tasty snacks & take home helpful gardening tips & tricks!
Current Staff's Favorite Plant