This fetching winter-hardy tuberous Begonia has lots to toot its horn about. The mounded, gleaming green clump presents attractive, large angel-wing leaves sporting red veins, branched stems with cardinal-hued nodes and exquisite panicles of yellow-centered white flowers. A perfect companion for fellow shade dwellers like Pulmonarias and Impatiens omeiana, 'Alba' appears late spring, requiring mulch in cold winter locales and slightly acidic, well-drained moisture-retentive soil.
Blooms July–September
Size: 18" – 2' 0" high x 12" – 18" wide.
Hardy to zone 6.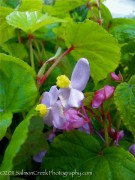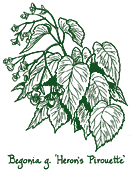 Though the polished triangular foliage resembles the species, it was the masses of deep pink, nearly 12 in. long flower clusters, pirouetting with a dancer's grace that caught Dan Hinkley's keen eye during a 1997 Japanese expedition. Draped on slender pendulous stems, the richly hued flowers, highlighted by lavender accents, deliver a splendid nonstop performance from June until fall; later warm pink seed heads provide a midautumn encore.
Relishing well-drained soil and bright shade, this delicate-looking hardy Begonia is a sterling choice for a container or for massing as a bedding plant.
Blooms June – early October.
Size: 15" high x 15" wide.
Hardy to zone 6.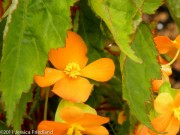 A hardy denizen of Kwazulu-Natal in South Africa, this exotic-looking tuberous Begonia sends up jagged-edged bright green foliage beneath a lovely cascade of clear orange flowers supported by pale red stems. The alluring summer long display complements Viola 'Silver Gem' or Saxifrage 'Maroon Beauty'.
Blooms June-August
Size: 6" high x 18" wide.
Zone 7/8.