Catalog
Order the Catalog printed on genuine paper for $2.
Add to Cart
Digging Dog Nursery
a retail and mail order plant nursery specializing in unusual and hard to find perennials, ornamental grasses, shrubs, trees, and vines.
31101 Middle Ridge Rd.
Albion, CA 95410
phone:
(707) 937-1130
fax:
(707) 937-2480
Visit Us!
Summer Hours:
Wednesday–Saturday: 10am–4pm
Athyrium (Lady Fern)
at Digging Dog
Including Athyrium 'Ghost', Athyrium niponicum var. pictum, and Athyrium niponicum var. pictum 'Regal Red'

Athyrium
Lady Fern
Our highly ornamental offerings fashion distinctive fronds sprouting from a deciduous clump that relishes shady damp recesses. Old leaves can be left standing throughout the winter and cut back in the spring, just after the new ones burst forth.
We applaud the New England Wildflower Society for discovering this fantastic sturdy form of the native Lady Fern, which roams the eastern and central areas of our country. Forging an elegant vase shape, uniquely colored red-violet stems are hard to miss and look especially vibrant against artful light green, lacy foliage. The dense deciduous clump maintains a fresh appearance as new delicate-looking leaves unfurl throughout the growing season. Unfazed by deer, rabbits and poor clay soil, easily maintained 'Lady in Red' spreads gradually and lends bold colorful accents to perennial plantings or woodland gardens.
Size: 18"–3' 0" high x 18"–2-1/2' wide; hardy to zone 4.
Athyrium filix-femina 'Lady in Red' (F-0022)
SOLD OUT!
Email me when this plant is available
Ghost Lady Fern
This hauntingly beautiful hybrid inherits stellar attributes from each parent, A. niponicum var. pictum and A. filix-femina, thanks to the breeding efforts of Virginia's Nancy Swell. Strutting a straight-up formal stance, delicate-looking silver-laced new fronds continue to unfurl throughout the season alongside mature leaves that present soft pewter hues, celadon greens and burgundy accents. Easily grown 'Ghost' illuminates woodland shadows with subtle lacy shimmers and a reliable sturdiness.
Size: 2' 0"–3' 0" high x 18"–2' 0" wide; hardy to zone 4.
Athyrium 'Ghost' (F-0023)
Each $9.75
Add to Cart
Japanese Painted Fern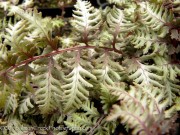 In stunning painterly strokes, olive-greens, blues and metallic silvers are splashed across the elegant tapered fronds. garnet-colored midribs etch a fervid counterpoint. Renown for its unwavering hardiness, the ever popular japanese painted fern slowly spreads to form a low growing, textural clump that gracefully weeps, softening the edges along paths, containers or the rockery and electrifying the shadows with Carex 'Island Brocade', Brunnera 'Jack Frost' and Pulmonaria longifolia ssp. cevennensis.
Tolerant of some drought once established, this refined deciduous fern fancies shade, moisture and well draining, humus-rich soil.
Size: 18" high x 2' 0" wide. 3/4
Athyrium niponicum var. pictum (F-0001)
Each $9.75
Add to Cart
Living up to its name, this swank Casa Flora selection boasts reliable color, beguiling texture and vigor aplenty. The fronds' luminous silver-washed margins sparkle against posh, dark violet-red interiors, while somewhat twisting pinnules render an elegant ruffled appearance. Lasting well into fall and tolerant of occasional drought once established, undemanding 'Regal Red' can be featured in cut arrangements or squire fellow shade lovers such as Mukdenia, Begonia 'Heron's Pirouette' and Pieris 'Little Heath'.
Size: 12"–18" high x 18"–2' 0" wide; hardy to zone 4.
Athyrium niponicum var. pictum 'Regal Red' (F-0026)
Each $9.75
Add to Cart
Current Staff's Favorite Plant