Catalog
Order the Catalog printed on genuine paper for $2.
Add to Cart
Digging Dog Nursery
a retail and mail order plant nursery specializing in unusual and hard to find perennials, ornamental grasses, shrubs, trees, and vines.
31101 Middle Ridge Rd.
Albion, CA 95410
phone:
(707) 937-1130
fax:
(707) 937-2480
Visit Us!
Summer Hours:
Wednesday–Saturday: 10am–4pm
Asarum (Wild Ginger)
at Digging Dog
Including Asarum caudatum, Asarum caudatum f. album, and Asarum splendens

Asarum
Wild Ginger
Stretching out by underground rhizomes, the Wild Gingers are handsome woodland dwellers whose large-leafed, low growing colonies flourish in moist, shady niches. Long petioles elevate their polished, usually heart-shaped foliage while darkly colored, three-lobed blooms add intrigue.
Western Wild Ginger
Sojourning in the dark wooded areas of western North America from California to British Columbia and Montana, this lustrous semi-evergreen perennial presents bold heart-shaped bright green leaves that smell like ginger when they're crushed. Wide-spreading rhizomes sprout a low somewhat open patch, enhanced by long slender petioles, silky new growth and intriguing triangular rusty brown blooms. Ideal as an understory ground cover, Wild Ginger resists slugs and deer, enjoys loose organic soil, adapts to moist or dry conditions, and makes a verdant companion for Polygonatum 'Variegatum', Anemone 'Glacier' and Dryopteris 'Brilliance'.
Blooms April–June
Size: 6" high x 18" wide; hardy to zone 7.
Asarum caudatum (P-0184)
Each $8.00
Add to Cart
AVAILABLE SPRING 2018
Wild Ginger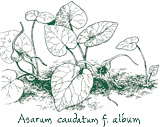 A lover of loose leafy soil, this native of western North America grows in the deep shade of redwood forests and pine woods, spreading its rhizomes to form wide patches of foliage. The 3 petals of the earthy wine-colored flowers end in long tapering wisps under deeply embossed, heart-shaped leaves. Combined with Beesia deltophylla, which is equally shade-loving, the red colors are even more enchanting.
Blooms April – June.
Size: 4"–6" high & spreading; hardy to zone 7.
Asarum caudatum f. album (P-1548)
Each $8.25
Add to Cart
AVAILABLE SPRING 2018
Chinese Wild Ginger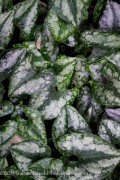 "Splendid" seems like too modest a word to proclaim the elegance of this ginger's foliage! Glistening, broadly arrow-shaped, deep green leaves flaunt dramatic silver marbling and come spring, 2 in. wide dark purple blossoms with white throats. Situated among Podophyllum hexandrum, easy-to-grow Asarum splendens sculpts a show stealing, illustriously patterned ground cover in just a few years that appreciates warm, humid summers while resenting cool ones.
Blooms April – May
Size: 8" high & spreading; hardy to zone 6.
Asarum splendens (P-1247)
Each $10.00
Add to Cart
Garden Conservancy Open Day at Digging Dog!
Saturday, June 23 - 10 a.m. to 5 p.m. Digging Deeper Ė 1 pm - Enjoy a guided tour of the Private Gardens of Deborah Whigham and Gary Ratway, adjacent to Digging Dog Nursery in Albion, CA; free with $7.00 garden admission. 3 pm - Join Patricia Smyth, owner of Essence of the Tree, for a Japanese maple container demonstration. Tickets are available via
this link
or at Digging Dog Nursery. Plant shopping welcome!
Mendocino Art Center (MAC) Garden Tour!
Saturday, June 30 - 10 a.m. to 5 p.m. We welcome you to join us in support of The Mendocino Art Center for this fabulous garden tour and fundraiser. Tickets are available through the MACís website.
Saturday Strolls & Plant Chats 2018!
Saturdays at 2 p.m. July 14th and 28th, August 18th, and September 15th. Stroll with Horticulturalist Deborah Whigham, sip iced tea, nibble on tasty snacks & take home helpful gardening tips & tricks!
Current Staff's Favorite Plant