Catalog
Order the Catalog printed on genuine paper for $2.
Add to Cart
Digging Dog Nursery
a retail and mail order plant nursery specializing in unusual and hard to find perennials, ornamental grasses, shrubs, trees, and vines.
31101 Middle Ridge Rd.
Albion, CA 95410
phone:
(707) 937-1130
fax:
(707) 937-2480
Visit Us!
Summer Hours:
Wednesday–Saturday: 10am–4pm
Aruncus (Goat's Beard)
at Digging Dog
Including Aruncus 'Horatio', Aruncus aethusifolius, and Aruncus dioicus 'Kneiffii'

Aruncus
Goat's Beard
When you think of a woodland setting, think Aruncus. With elegant, feathery ivory plumes, Goat's Beard is similar to and combines well with Astilbe, although it is airier in form. A terrific understory for tall canopies of Styrax japonicus or Maples, it thrives in moist soil, and is a natural beside a pool or stream. Place Aruncus where you can view it from the south, to take advantage of its tendency to lean toward the sun. It's a popular cut flower.
View a slideshow of plant images from this genus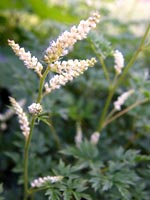 Topped by creamy white plumes of minute star-like flowers, fine ultra-chiseled foliage and red-tinged stems shape a tidy dwarf habit that works well as a ground cover around flat stones and rocks. This small gem can also be tucked into the front of the border with broad-leafed Epimediums nearby.
Blooms late May–mid-June.
Size: 8" high x 12" wide; hardy to zone 5.
Aruncus aethusifolius (P-0995)
Each $7.50
Add to Cart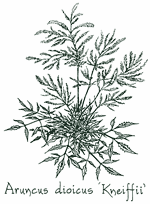 While the species is a larger perennial hailing from Missouri, this compact, daintier 1889 version sprouts Japanese Maple-like leaves, finely hewn with thread-like segments. Sheer cream-colored plumes of minute starry blooms twinkle above the ultra-fine deep green hummock. Ideal as a cut flower, fresh or dried, and for gardens short on space, 'Kneiffii' can be massed along streams or ponds and in moist shady borders or woodland gardens.
Blooms June–July
Size: 2-1/2'–3' 0" high x 2' 0" wide. 3/4
Aruncus dioicus 'Kneiffii' (P-1919)
Each $8.50
Add to Cart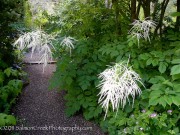 Shorter and sturdier than the species, this German hybrid does well in windy areas. Dispelling all images of a stocky work plant, its name means "child of two worlds," and it is indeed otherworldly.
Blooms June–July.
Size: 2-1/2' high x 2' 0" wide; hardy to zone 5.
Aruncus dioicus 'Zweiweltenkind' (P-0021)
SOLD OUT!
Email me when this plant is available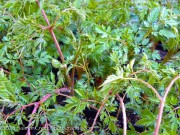 Steeped in elegance, yet remarkably steadfast, this exquisite perennial was bred by noted German nurseryman, Ernest Pagels. 'Horatio' is a meticulously crafted cross between Aruncus aethusifolius and Aruncus dioicus, prized for its unique sparkling plumes of tiny cream-colored blooms, which splay out in a horizontal fashion from bronze-tinted upright stems. Fresh green fernlike foliage forms a bushy base beneath the airy star-shaped flowers.
Blooms June–July.
Size: 3' 0"–3-1/2' high x 2-1/2' wide; hardy to zone 4.
Aruncus 'Horatio' (P-1690)
Each $8.50
Add to Cart
Saturday Strolls & Plant Chats 2018!
Saturdays at 2 p.m. July 14th and 28th, August 18th, and September 15th. Stroll with Horticulturalist Deborah Whigham, sip iced tea, nibble on tasty snacks & take home helpful gardening tips & tricks!
Current Staff's Favorite Plant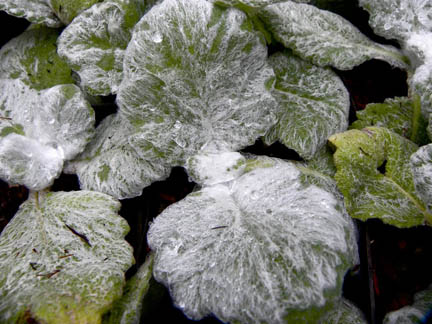 Customer Comment:
"Yesterday I received my first order from Digging Dog. All the starts are healthy and generous looking. And they arrived exactly when promised. Thank you thank you. I appreciate the hand-written tags. It's like having a friend share something from a wonderful garden."
~Lucille in Oregon
view Digging Dog's comments with Dave's Garden (The Garden Watchdog)