Catalog
Order the Catalog printed on genuine paper for $2.
Add to Cart
Digging Dog Nursery
a retail and mail order plant nursery specializing in unusual and hard to find perennials, ornamental grasses, shrubs, trees, and vines.
31101 Middle Ridge Rd.
Albion, CA 95410
phone:
(707) 937-1130
fax:
(707) 937-2480
Visit Us!
Summer Hours:
Wednesday–Saturday: 10am–4pm
Arisaema (Cobra Lily or Jack-in-the-Pulpit)
at Digging Dog
Including

Arisaema
Cobra Lily or Jack-in-the-Pulpit
These exotic-looking Calla relations comprise a vast genus primarily found in the Himalayas, China and Japan. While the sparsely produced leaves are carved into 3 or more leaflets, the curious inflorescence features a fleshy club-like spike that's packed with tiny flowers and encompassed by an over arching flower bract. Fertile, humus-rich and evenly moist soil helps keep the Cobra Lilies charmed.

Pink flowered white striped Cobra Lily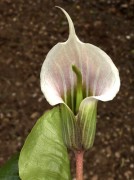 Lustrous arrow-shaped leaves, which often grow 2 ft. wide, wait 'til early summer to burst forth with dramatic tropical appeal. Affixed to sturdy 15 in. stalks, sensational hooded flowers, resembling pink pitchers, are enhanced by striking stripes of translucent milky white vertical veins. Undemanding, deer resistant and more sun-tolerant than other Arisaema, this lusted-after Cobra Lily pledges a glorious colony, produces offsets freely and launches bold bright orange-red seed pods in late summer.
Blooms June–July.
Size: 15"–18" high x 10" wide; hardy to zone 6.
Arisaema candidissimum (P-1829)
SOLD OUT!
Email me when this plant is available
Himalayan Cobra Lily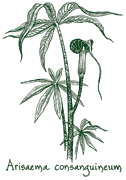 Jewel of the woodland garden, this elegant, easy-to-grow species is found throughout southwestern China. A whorl of numerous narrow leaflets with slender drip-tips and undulating edges crowns each tall stately stem. Conjuring mysterious images of a cobra poised to strike, the otherworldly inflorescence is borne from a petiole beneath the foliage. It is defined by a purplish brown and greenish white-streaked spathe with an elongated hood that tapers to a pendulous, very long, threadlike tip. Clustered, bright scarlet berries create a colorful grand finale. Fertile, humus-rich and evenly moist soil will keep the Cobra Lily charmed.
This plant will be shipped from fall through mid-spring. Most of the plants will be shipped dormant and bare-root unless we have potted ones which have sprouted.
Dormant Arisaemas in containers must not be kept wet. Water them in their pots only when the soil gets bone dry—about twice a month.
Blooms June.
Size: 3' 0"–4' 0" high x 12" wide; hardy to zone 6.
Arisaema consanguineum (P-1608)
SOLD OUT!
Email me when this plant is available
Garden Conservancy Open Day at Digging Dog!
Saturday, June 23 - 10 a.m. to 5 p.m. Digging Deeper – Join Patricia Smyth, owner of Essence of the Tree, for a Japanese maple container demonstration. Enjoy a guided tour of the Private Gardens of Deborah Whigham and Gary Ratway, adjacent to Digging Dog Nursery in Albion, CA; free with $7.00 garden admission. Tickets are available via
this link
or at Digging Dog Nursery. Plant shopping welcome!
Mendocino Art Center (MAC) Garden Tour!
Saturday, June 30 - 10 a.m. to 5 p.m. We welcome you to join us in support of The Mendocino Art Center for this fabulous garden tour and fundraiser. Tickets are available through the MAC's website.
Saturday Strolls & Plant Chats 2018!
Saturdays at 2 p.m. July 14th and 28th, August 18th, and September 15th. Stroll with Horticulturalist Deborah Whigham, sip iced tea, nibble on tasty snacks & take home helpful gardening tips & tricks!
Current Staff's Favorite Plant