Anemone (Wind Flower)
at Digging Dog
Including Anemone hupehensis, Anemone hybrida, Anemone magellanica, Anemone sylvestris, and Anemone x hybrida

Anemone
Wind Flower
"The floure never openth it selfe, but when the wynde bloweth," wrote William Turner, in A New Herbal (1560). In our garden, however, we enjoy the buttercup-shaped flowers in any weather, windy or not. Elegant and deceptively delicate, Anemone is also tough and undemanding. Most will multiply readily in rich, sandy loam, and are perfect for naturalizing in a woodland setting.
View a slideshow of plant images from this genus
Parsley Leaf Windflower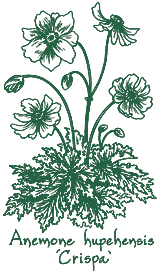 Reminiscent of triple curled parsley, the striking green leaves are embellished with curious curves, crinkles, ruffles and red-tinged margins. In autumn, 2 ft. tall stalks present delicate, 3 in. wide pale pink flowers, centered by shaggy yellow eyes, above an ultra-textured mound, which is more compact and less spreading than other hupehensis cultivars. Though there's some confusion about its origins, this unusual British selection may be 'Lady Gilmour', an age-old cultivar first recorded in 1895.
Blooms mid-August–September.
Size: 20"–2' 0" high x 2' 0" wide; hardy to zone 4.
Anemone hupehensis 'Crispa' (P-1744)
Each $7.75
Add to Cart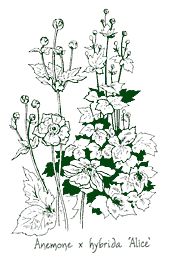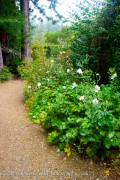 Unlike many Anemones, 'Alice' spreads slowly, growing into a clump 3 ft. across within three years. It is robust and upright with large leaves that outsize the foliage of most hybrida forms. In our garden, the semidouble soft pink flowers appear to float against a hedge of Carpinus and contrast well with the golden fall foliage of Amsonia hubrichtii.
Blooms late August–October.
Size: 5' 0"–6' 0" high x 3' 0" wide; hardy to zone 4.
Anemone x hybrida 'Alice' (P-0503)
Each $7.75
Add to Cart
These beauties sway on tall but sturdy stems above lush deep green Maple-shaped leaves. Downy green buds open into semidouble white flowers with chartreuse eyes. In winter, seed heads turn a rich chocolate brown, making 'Andrea Atkinson' an entertaining addition in drifts or borders. For vivacious color, try it with Aster cordifolius or blue flowering Geraniums.
Blooms August–late October.
Size: 4-1/2'–5' 0" high x 3' 0" wide; hardy to zone 5.
Anemone x hybrida 'Andrea Atkinson' (P-0911)
Each $7.75
Add to Cart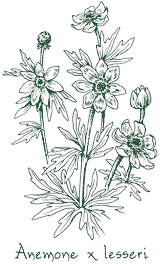 This lovely jewel-box-like hybrid affords cupped carmine-red blooms, festooned with spry yellow anthers above an attractive non-aggressive bed of low growing ferny green foliage. Parented by Anemone multifida and Anemone sylvestris, Anemone x lesseri's fine cut palmately lobed leaves and uniquely colored up-facing flowers make compelling additions to the rockery, an open woodland planting or a borderís front lines. Appreciative of morning light accompanied by dappled afternoon shade on hot days, its dwarf habit requires minimal care, resists those meddlesome deer and prospers in moist well-drained organic-rich soil.
Blooms June.
Size: 12"–15" high x 9"–12" wide; hardy to zone 5.
Anemone x lesseri (P-1827)
SOLD OUT!
Email me when this plant is available
Woodland Anemone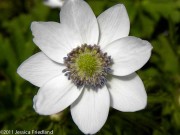 This elegant Chinese denizen presents delicate single white flowers with a smoky halo of deep blue-violet stamens, surrounding green centers, and mauve flushed backsides. An illuminated choice for the woodland garden, Anemone leveillei's low mound of deeply divided and somewhat hirsute dark green leaves can be massed amid ferns and wild gingers in humus-rich soil.
Blooms April – early June.
Size: 15"–18" high x 18" wide; hardy to zone 5.
Anemone leveillei (P-1164)
SOLD OUT!
Email me when this plant is available
This little-known endearing Anemone hosts uniquely etched, oval-shaped pale green buds and dainty, cupped, 1 in. wide soft yellow flowers followed by decorative, fluffy white seed heads on erect leafy stems. The appealing, somewhat reflective evergreen mound of lobed, fine-hewn deep green foliage is easily grown and well-suited for a front row seat with good drainage and moderate water.
Blooms July–October
Size: 12" high x 10" wide. 7/8
Anemone magellanica (P-1971)
Each $7.50
Add to Cart
Wood Anemone
Adored by all who behold it, this charming European woodland plant boasts the choicest double Wood Anemone flowers in cultivation. Six ray petals, pure as the driven snow, encompass a fluffy white central tuft of distinctively gathered petaloid stamens. The elegant, long lasting 1 in. blooms repose upon low ferny mats of ephemeral spring leaves that show off a purplish sheen when young and disappear come summer.
Blooms late March – early May.
Size: 4" high x 12" wide; hardy to zone 4.
Anemone nemorosa 'Vestal' (P-1607)
SOLD OUT!
Email me when this plant is available
Yellow Anemone
Brilliant citrine-yellow petals swirl around golden stamens, their sunny coloration rare for an Anemone. Often tinged red on the outside, the good-sized, saucer-shaped flowers are presented on slender, leafless 6 in. stems above a handsome basal mat of glossy deep green foliage. A southwest European native, this spreading Anemone prefers a sunny, well drained bank where its cheerful blooms can be paired with blue flowering Nepeta reichenbachiana.
Blooms May–June.
Size: 12" high x 8" wide; hardy to zone 6.
Anemone palmata (P-1175)
SOLD OUT!
Email me when this plant is available
Native to the far reaches of Himalaya, India and Ceylon, this Anemone quickly emerges in the spring as an attractive basal clump of long-petioled deep green trilobed leaves. Red-tinged stems–silky, stiff, arching and branched–deliver snow white droves of large, open saucer-shaped flowers. Violet-blue anthers and backsides with dusty green and gun-metal blue streaks enhance the exquisite blooms, while spiky green seed heads gathered in ornamental clusters provide autumn allure. Unparalleled in drifts, 'Glacier' insists on cool, moist humus-rich soil.
Blooms June–August.
Size: 16"–20" high x 12" wide; hardy to zone 4.
Anemone rivularis 'Glacier' (P-1745)
SOLD OUT!
Email me when this plant is available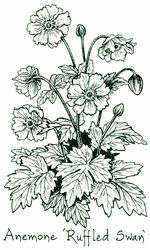 Hats off to the highly acclaimed Scottish Elizabeth MacGregor Nursery for this exceptional hybrida and rupicola cross. The tallest of the Swan series, 'Ruffled Swan' fashions large semidouble icy white flowers dressed with ruffled margins, frilly golden centers and violet blue undersides. The perfect-for-cutting sterile flowers look elegant all summer-long above 3-lobed green leaves that produce a trim vigorous clump, favoring free draining, evenly moist accommodations. (PPAF)
Blooms July–mid-October
Size: 2' 0"–2-1/2' high x 18" wide; hardy to zone 6.
Anemone 'Ruffled Swan' (P-1923)
Each $8.25
Add to Cart
Snowdrop Anemone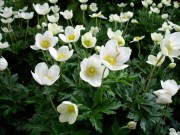 With Old World allure, its sweet smelling bounty of yellow-eyed, satiny white blossoms has been lighting up gardens for over 400 years. Atop straight 18 in. stems, delicate cup-shaped single flowers offer a repeat bloom come fall, and later develop decorative cottonlike seed heads. Deeply cut, palmate green leaves form a lustrous dense ground cover that naturalizes easily in loamy soil and bright shade.
Amenable to full sun where its cool and full shade where its warm, this ethereal beauty detests desert heat, can accompany early flowering spring bulbs and may periodically need its vigorous rhizomes curbed.
Blooms April – June & September.
Size: 12"–18" high x 12"–18" wide; hardy to zone 4.
Anemone sylvestris (P-1640)
Each $7.50
Add to Cart
Granted the prestigious plant of the year award at the Chelsea Flower Show in 2011, this wildly popular Anemone gives you good reason to swoon. Superb in bouquets, a long-lasting plethora of large snowy blooms with lavender-blue flip sides presents peerless panache atop slender stems and low growing, deeply divided dark green foliage. 'Wild Swan's well-mannered, noninvasive habit can be massed in a woodland garden or tucked amid rock work where its flowers close at dusk, resembling nodding bells.(pp#23,132)
Blooms June–September
Size: 18" high x 18"–2' 0" wide; hardy to zone 6.
Anemone 'Wild Swan' (P-1972)
Each $8.25
Add to Cart
Saturday Strolls & Plant Chats 2018!
Saturdays at 2 p.m. July 14th and 28th, August 18th, and September 15th. Stroll with Horticulturalist Deborah Whigham, sip iced tea, nibble on tasty snacks & take home helpful gardening tips & tricks!
Current Staff's Favorite Plant