Catalog
Order the Catalog printed on genuine paper for $2.
Add to Cart
Digging Dog Nursery
a retail and mail order plant nursery specializing in unusual and hard to find perennials, ornamental grasses, shrubs, trees, and vines.
31101 Middle Ridge Rd.
Albion, CA 95410
phone:
(707) 937-1130
fax:
(707) 937-2480
Visit Us!
Summer Hours:
Wednesday–Saturday: 10am–4pm
Andropogon
at Digging Dog
Including Andropogon gerardii, and Andropogon gerardii 'Lord Snowden's Big Blue'

Andropogon
This large cosmopolitan genus gleans its name from the Greek word pogon, or beard, alluding to the lustrous hairs that blanket the inflorescences. Closely associated with Schizachyrium, 13 clump-forming warm season Andropogon hail from North America. Many of the garden-worthy Beardgrass are often drought tolerant, and generally characterized by attractive, easily grown sturdy demeanors, late summer blooms plus prismatic autumn color.
Big Bluestem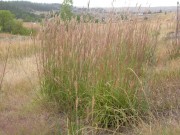 Historically renowned as the sod our ancestors broke their backs busting, Big Bluestem is the most widespread of all the prairie grasses. Its regal and wild color show makes it a must in our garden. Growing to great size, the stand's lush, blue-blushed summer greenery becomes a burgundy and copper glory at first frost. Soaring three-pronged red seed heads beg its other common name, Turkeyfoot.
Reliable, heat tolerant and sturdy, Andropogon gerardii thrives in poorly drained clay to dry sandy soils, and easily transitions the outskirts of your garden into the wild meadow beyond.
Blooms late August–October.
Size: 5' 0"–8' 0" high x 3' 0" wide; hardy to zone 4.
Andropogon gerardii (G-0448)
Each $7.75
Add to Cart
Spotted near Crowley, Texas by John Snowden, acclaimed grass expert and Bluestem Nursery founder, this American native's unwavering fortitude belies its graceful lush-looking silhouette. Thick, straight bluish mauve-hued stalks supporting slim, 3-pronged rubescent inflorescences emerge from large, upright ¼ in. wide powder-blue blades, which broadcast reddish purple, dusky pink, tangerine and copper tones in September. An undemanding color-rich candidate for dry sunny locales, 'Lord Snowden' can be massed or planted as a specimen, and associated with Astrantia 'White Giant' and Gaura 'So White'.
Blooms August–November
Size: 5' 0"–7' 0" high x 4' 0" wide; hardy to zone 3.
Andropogon gerardii 'Lord Snowden's Big Blue' (G-0569)
Each $8.00
Add to Cart
AVAILABLE SPRING 2018
Turkey Foot
This recent Intrinsic Perennial Garden introduction is quickly earning kudos for its spectacular shades of red and long-lived amenable character. August brings rich cardinal red accents to lush dark green blades that define a substantial straight-up clump, while unique threebranched inflorescences with bright red pollen sacs sway above. Strutting fiery scarlet-red and burgundy colors by the first frost, aptly named 'Red October' provides welcome cover for nesting birds and makes a galvanizing addition to a mixed planting, meadow garden or naturalized space. (PPAF)
Blooms July – October.
Size: 5' 0"–6' 0" high x 2' 0" wide; hardy to zone 3.
Andropogon gerardii 'Red October' (G-0539)
SOLD OUT!
Email me when this plant is available
Garden Conservancy Open Day at Digging Dog!
Saturday, June 23 - 10 a.m. to 5 p.m. Digging Deeper Ė 1 pm - Enjoy a guided tour of the Private Gardens of Deborah Whigham and Gary Ratway, adjacent to Digging Dog Nursery in Albion, CA; free with $7.00 garden admission. 3 pm - Join Patricia Smyth, owner of Essence of the Tree, for a Japanese maple container demonstration. Tickets are available via
this link
or at Digging Dog Nursery. Plant shopping welcome!
Mendocino Art Center (MAC) Garden Tour!
Saturday, June 30 - 10 a.m. to 5 p.m. We welcome you to join us in support of The Mendocino Art Center for this fabulous garden tour and fundraiser. Tickets are available through the MACís website.
Saturday Strolls & Plant Chats 2018!
Saturdays at 2 p.m. July 14th and 28th, August 18th, and September 15th. Stroll with Horticulturalist Deborah Whigham, sip iced tea, nibble on tasty snacks & take home helpful gardening tips & tricks!
Current Staff's Favorite Plant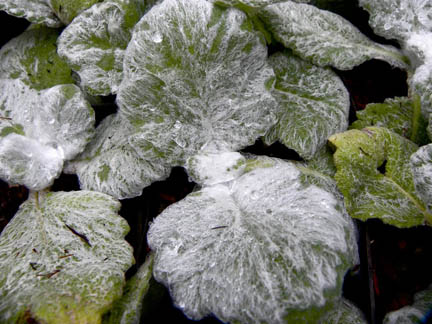 Customer Comment:
"My geranium sanguineum and phaeum...arrived in perfect condition despite raging temps above 100 here....I appreciate people who care enough to deliver a good product and give excellent service.... It's a pleasure to be able to thank someone for a job well done."
~Diane in Vermont
view Digging Dog's comments with Dave's Garden (The Garden Watchdog)