Catalog
Order the Catalog printed on genuine paper for $2.
Add to Cart
Digging Dog Nursery
a retail and mail order plant nursery specializing in unusual and hard to find perennials, ornamental grasses, shrubs, trees, and vines.
31101 Middle Ridge Rd.
Albion, CA 95410
phone:
(707) 937-1130
fax:
(707) 937-2480
Visit Us!
Summer Hours:
Wednesday–Saturday: 10am–4pm
Alchemilla (Lady's Mantle)
at Digging Dog
Including Alchemilla erythropoda, Alchemilla glaucescens, Alchemilla mollis 'Auslese', and Alchemilla mollis 'Robusta'

Alchemilla
Lady's Mantle
You might not transmute gold with Alchemilla, but foamy clusters of tiny, starlike flowers in brilliant chartreuse will materialize above beautifully scalloped, slightly toothed foliage. A contrast of forms, Alchemilla was used to collect dewdrops in the medieval preparation of the Philosopher's Stone. We find the way moisture collects and moves like mercury on the pale green leaves always magical. Whether fresh or dried, the flowers are a favored addition to any bouquet.
View a slideshow of plant images from this genus
Let this low growing, wonderfully textured plant creep its way around the shaded stepping stones of your woodland garden. Let the wine red stems and miniature, sometimes silver-edged, deeply lobed and scalloped green foliage surprise you under Helleborus, Astrantia or Tricyrtis.
Blooms April–mid-August.
Size: 2" high x 12" wide; hardy to zone 6.
Alchemilla ellenbeckii (P-0174)
SOLD OUT!
Email me when this plant is available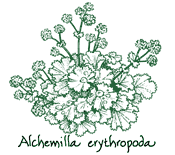 This charming dwarf Alchemilla sprouts gray- green serrated foliage and zesty citron-yellow flower clusters that don a reddish cast once they're spent. We plant it primarily as a ground cover in small niches of the rockery.
Blooms April–August
Size: 5" high x 10" wide; hardy to zone 5.
Alchemilla erythropoda (P-0009)
Each $7.75
Add to Cart
AVAILABLE SPRING 2018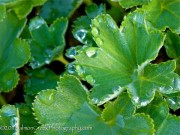 Trimmed with silver-haired teeth, shallow rounded lobes sculpt the soft-as-velvet, olive-green palmate foliage, while effervescent sprays of thirst quenching lemon-lime flowers linger above. Growing larger than Alchemilla 'Auslese', this Alchemilla delivers radiant appeal in dappled light amid blue flowering Brunnera.
Blooms April–mid-August.
Size: 10" high x 12" wide; hardy to zone 5.
Alchemilla glaucescens (P-0010)
Each $7.75
Add to Cart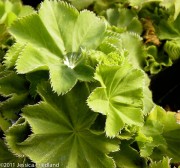 Profuse sprays of yellow-green frothy flowers adorn a mound of lush gray-green foliage, much larger than our other Alchemilla offerings. The leaves alone will enhance the foreground of any perennial border. 'Auslese' prefers cool moist soil, so we oblige by planting it in a woodland setting under a high canopy.
Blooms April–mid-August.
Size: 15"–18" high x 2' 0" wide; hardy to zone 4.
Alchemilla mollis 'Auslese' (P-0478)
Each $7.75
Add to Cart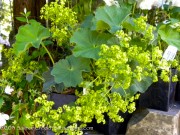 Effervescent sprays of starry chartreuse flowers carried on sturdy, mostly upright stems are a florist's dream and a gardener's good fortune. Rounded pastel green leaves are a little larger than the species, featuring palmate veins, soft-as-velvet silver hairs and partially folded lobes, adopting an exquisite pleated appearance. All this charming detail deserves a closer look, so situate 'Robusta' along a well-trodden path or favored bench where you'll be rewarded with a repeat autumn bloom.
Blooms April–mid-July.
Size: 18" high x 2' 0" wide; hardy to zone 4.
Alchemilla mollis 'Robusta' (P-1685)
Each $7.75
Add to Cart
Garden Conservancy Open Day at Digging Dog!
Saturday, June 23 - 10 a.m. to 5 p.m. Digging Deeper Ė 1 pm - Enjoy a guided tour of the Private Gardens of Deborah Whigham and Gary Ratway, adjacent to Digging Dog Nursery in Albion, CA; free with $7.00 garden admission. 3 pm - Join Patricia Smyth, owner of Essence of the Tree, for a Japanese maple container demonstration. Tickets are available via
this link
or at Digging Dog Nursery. Plant shopping welcome!
Mendocino Art Center (MAC) Garden Tour!
Saturday, June 30 - 10 a.m. to 5 p.m. We welcome you to join us in support of The Mendocino Art Center for this fabulous garden tour and fundraiser. Tickets are available through the MACís website.
Saturday Strolls & Plant Chats 2018!
Saturdays at 2 p.m. July 14th and 28th, August 18th, and September 15th. Stroll with Horticulturalist Deborah Whigham, sip iced tea, nibble on tasty snacks & take home helpful gardening tips & tricks!
Current Staff's Favorite Plant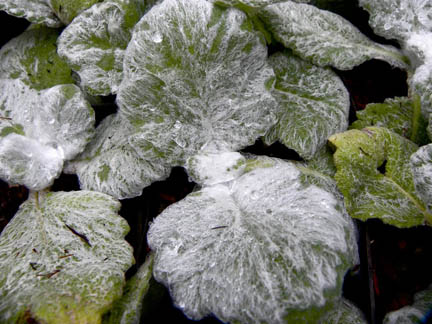 Customer Comment:
"I just received my plant order this morning. Everything looks GREAT and seems to have come through in fine order. I am so glad I ordered from your nursery and I will definitely be getting more plants from you. They are very healthy and have obviously had a good start!"
~Cathy in Washington
view Digging Dog's comments with Dave's Garden (The Garden Watchdog)