Lily of the Nile
Seducing gardeners and butterflies, Agapanthus hails from South Africa and procures its name from the Greek words agape and anthos meaning 'love flower'. Well draining, not-too-rich, loamy soils, afternoon shade where it's hot and protection from cold winter nights ensure a happy specimen that even obliges an occasional dry period once established
Eye-catching contrast, darkly colored late season blooms and a shorter steadfast stature are the attributes of this prized 2005 introduction by Dutch plantsman Piet Zonneveld. Umbrella-shaped, deep bluish purple flowers crown stout, polished upright green stalks infused with sumptuous jet-black shades as they mature. 'Back in Black's seductive midnight hues forge a stunning juxtaposition against the tidy, glistening clump of strapping green leaves. (PP#16,244)
Blooms July–September
Size: 2' 0" high x 18" wide.
Zone 6b.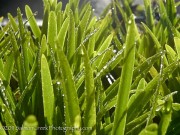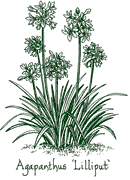 A glossy green fountain of low growing, straplike evergreen foliage offers up loosely arranged round umbels, which unfurl like exploding fireworks, atop sturdy leafless stalks. Violet anthers and deep purple stems augment the cool dark blue, tubular flowers. Well-suited for a container or the front lines of a bed amid silver-leafed plants, small-statured 'Lilliput' thrives in well draining, not-too-rich, loamy soils, withstanding some dry periods once established. It appreciates afternoon shade where it's hot and winter protection from the cold.
Blooms July – September.
Size: 2' 0" high x 18" wide.
Zone 7/8.
It was Barrie Coate's discerning eye that chose this magnificent darkly hued treasure from a batch of Agapanthus 'Mood Indigo' seedlings when he was director of California's Saratoga Horticultural Foundation. Touted as the richest and darkest flowers of the genus, amazing huge purple-laced blue globes each house up to 100 individual florets on strong, thick greenish black lustrous stalks. The nearly iridescent floral presentation is beguiling to garden visitors and hummingbirds, gathering some 3 or 4 ft. above a large lush evergreen clump of shiny bright green strap-like leaves, which transmutes purple and red shades in winter and provides year-round bold foliar texture.
Blooms July–September.
Size: 4' 0" high x 2' 0" – 3' 0" wide.
Zone 7/8.