Actaea (Black Snakeroot)
at Digging Dog
Including Actaea japonica, Actaea racemosa, and Actaea simplex

Actaea
Black Snakeroot
A botanical "Renaissance Man", Actaea is at home in an informal garden, a refined border or in an arrangement for opening night at the Met. Their ambrosial perfume floats through the air as they brighten their surroundings. Actaea is happiest in moist, humus-enriched soil and bright shade; otherwise it´s carefree and low maintenance.
View a slideshow of plant images from this genus
Appalachian Bugbane
An 1805 discovery by German-born Frederick Pursh in the Appalachian Mountains of Virginia and North Carolina, this superb hard-to-find American native sprouts broad ample-sized foliage, distinctive for its handsome Maple-like appearance. Straight emerald-hued steadfast stems, bearing fragrant creamy white floral candles, tower above a leafy verdant clump. Appalachian Bugbane can be ensconced near Athyrium 'Ghost', where it vows luminous late season accents, deer resistance and easy care.
Blooms July–September.
Size: 4' 0"–4-1/2' high x 2' 0"–2-1/2' wide; hardy to zone 4.
Actaea cordifolia (P-1828)
SOLD OUT!
Email me when this plant is available
Japanese Bugbane
A superior South Korean selection recently introduced by Darrell Probst, this compact courtly Actaea furnishes lush verdant layers of jagged-edged, shiny green leaves, clasping blackish purple stalks. The dark pearl-shaped buds plus tiny snow white blossoms embellish tall close-set glittering candles that gracefully herald the season's end.
Blooms August–September
Size: 3' 0"–4' 0" high x 18"–2' 0" wide; hardy to zone 4.
Actaea japonica '(Cheju Island Form)' (P-1871)
Each $10.00
Add to Cart
White Baneberry
Promising three season appeal for the woodland garden, this marvelous soft-looking East coast native is a Dr. Richard Lighty selection from Delaware's esteemed Mt. Cuba Center. Its handsome glaucous clump of finely cut silvery blue-green foliage hosts small starburst-like creamy white blooms on short stalks in spring and several months later, wondrous round white berries, each tattooed with a distinctive black spot at the tip and poised upon a striking bright red pedicel. Long-lived White Baneberry crafts an exceptional multistemmed ground cover that favors moist well-drained soil.
Size: 2' 0"–3' 0" high x 2' 0"–3' 0" wide. 3/4
Actaea pachypoda 'Misty Blue' (P-1789)
SOLD OUT!
Email me when this plant is available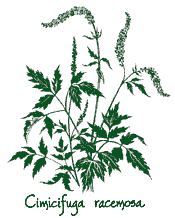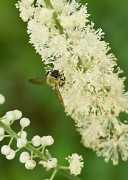 Long wandlike, creamy white flower racemes seem to dangle and dance on invisible stems above clumps of Astilbe-like foliage. Try this Actaea (Cimicifuga) in a naturalized setting, under a tall canopy at the back of the border, next to leafy Ligularia.
Blooms July–August.
Size: 5' 0"–6' 0" high x 2' 0"–3' 0" wide; hardy to zone 4.
Actaea racemosa (P-0048)
Each $9.75
Add to Cart
AVAILABLE SPRING 2018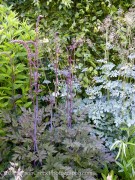 Grown from seedlings carefully selected for dark, coppery purple foliage, the regal profile of 'Atropurpurea' shows its good breeding. A garden dweller with a staid bearing, its stately reddish purple stems soar above your head, displaying dense spires covered with round mahogany-hued buds and sweet pouffes of white.
Echo this Actaea's somber tones by bringing it together with Angelica gigas, and let the lime green foliage of Physocarpus 'Dart's Gold' brighten the mood.
Blooms August–September.
Size: 6' 0" high x 2' 0"–3' 0" wide; hardy to zone 4.
Actaea simplex 'Atropurpurea' (p-0049)
Each $10.00
Add to Cart
Noted around town for her purple-black leaves and stems, this 'Brunette' is sure to turn some heads with the gentle way of her graceful, ferny foliage. At the back of the border, amidst the chaos of more summery greens, this dark lady's shadow lingers long before offering up arching racemes of fragrant, slightly blushed white flowers. One of the most sought-after cultivars, 'Brunette' is another incredibly lovely dark foliage selection of Actaea (Cimicifuga) simplex seedlings.
Blooms August–September.
Size: 5' 0"–6' 0" high x 2' 0"–3' 0" wide; hardy to zone 4.
Actaea simplex 'Brunette' (P-0811)
Each $12.50
Add to Cart
AVAILABLE SPRING 2018
Midnight dark, lean lofty stems culminate in honey-scented, long pale pink spires stretching skyward above a refined, Ariel-like mass of sumptuous, chocolatey purple serrated foliage. This splendid garden aristocrat casts a decidedly feminine aspect on Geranium m. 'Espresso's coffee-colored leaves.
Blooms August – October.
Size: 5' 0" high x 2' 0"–2-1/2' wide. 3/4
Actaea simplex 'Pink Spike' (P-1427)
Each $13.75
Add to Cart
Surprisingly underused, 'White Pearl's bright white, bottlebrushlike blossoms and large pearly buds will light up a somber setting just like the animated glow of a 4th of July sparkler. The good-sized ambrosial flowers unfurl later than most other Actaeas, while their densely set stalks are more arching than racemosa's.
Tolerating drier, less rich soils, deceptively tough wiry stems and finely cut, toothed foliage compose the medium green nimble-looking stand which slowly spreads.
Blooms September–October.
Size: 4' 0" high x 2-1/2' wide; hardy to zone 4.
Actaea simplex var. matsumurae 'White Pearl' (P-1371)
Each $10.00
Add to Cart
AVAILABLE SPRING 2018
Garden Conservancy Open Day at Digging Dog!
Saturday, June 23 - 10 a.m. to 5 p.m. Digging Deeper – 1 pm - Enjoy a guided tour of the Private Gardens of Deborah Whigham and Gary Ratway, adjacent to Digging Dog Nursery in Albion, CA; free with $7.00 garden admission. 3 pm - Join Patricia Smyth, owner of Essence of the Tree, for a Japanese maple container demonstration. Tickets are available via
this link
or at Digging Dog Nursery. Plant shopping welcome!
Mendocino Art Center (MAC) Garden Tour!
Saturday, June 30 - 10 a.m. to 5 p.m. We welcome you to join us in support of The Mendocino Art Center for this fabulous garden tour and fundraiser. Tickets are available through the MAC's website.
Saturday Strolls & Plant Chats 2018!
Saturdays at 2 p.m. July 14th and 28th, August 18th, and September 15th. Stroll with Horticulturalist Deborah Whigham, sip iced tea, nibble on tasty snacks & take home helpful gardening tips & tricks!
Current Staff's Favorite Plant