Catalog
Order the Catalog printed on genuine paper for $2.
Add to Cart
Digging Dog Nursery
a retail and mail order plant nursery specializing in unusual and hard to find perennials, ornamental grasses, shrubs, trees, and vines.
31101 Middle Ridge Rd.
Albion, CA 95410
phone:
(707) 937-1130
fax:
(707) 937-2480
Visit Us!
Summer Hours:
Wednesday–Saturday: 10am–4pm
Acaena (Goose Leaf)
at Digging Dog
Including Acaena inermis 'Purpurea', and Acaena saccaticupula

Acaena
Goose Leaf
Our selections of this enchanting, ground-hugging evergreen from New Zealand feature diminutive leaves with a ferny delicacy. Lifting on short stalks above the foliage, globe-shaped seed heads—small thornless "burrs"—are colored a brownish red. Adapted to almost any well drained location, plant it as a cover for your bulb bed, situate it along pathways, perch it on a garden wall or let it creep around paving stones.
Purple Goose Leaf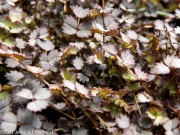 Colored in a purple-gray shade reminiscent of overripe plums, this enchanting ground-level evergreen from New Zealand sprouts delicate low-lying foliage that sends forth globe-shaped seed heads—small brownish red thornless spheres on short stalks. 'Purpurea' warmly interweaves a planting of Dianthus 'Mendlesham Maid', Scutellaria 'Texas Rose' and Carex glauca above our rock wall.
Blooms June–July.
Size: 6" high & spreading; hardy to zone 6.
Acaena inermis 'Purpurea' (P-1095)
Each $7.50
Add to Cart
Blue Goose Leaf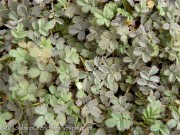 Pairs of tiny, scalloped silvery blue leaves and bronze trailing stems stay close to the ground, casting cool, fine textured accents on Sedum 'Voodoo's rich mahogany-red foliage or the glossy greenery of Dracocephalum 'Fuji White'.
Blooms June–July.
Size: 6" high & spreading; hardy to zone 6.
Acaena saccaticupula (P-1174)
Each $7.50
Add to Cart
Garden Conservancy Open Day at Digging Dog!
Saturday, June 23 - 10 a.m. to 5 p.m. Digging Deeper – 1 pm - Enjoy a guided tour of the Private Gardens of Deborah Whigham and Gary Ratway, adjacent to Digging Dog Nursery in Albion, CA; free with $7.00 garden admission. 3 pm - Join Patricia Smyth, owner of Essence of the Tree, for a Japanese maple container demonstration. Tickets are available via
this link
or at Digging Dog Nursery. Plant shopping welcome!
Mendocino Art Center (MAC) Garden Tour!
Saturday, June 30 - 10 a.m. to 5 p.m. We welcome you to join us in support of The Mendocino Art Center for this fabulous garden tour and fundraiser. Tickets are available through the MAC's website.
Saturday Strolls & Plant Chats 2018!
Saturdays at 2 p.m. July 14th and 28th, August 18th, and September 15th. Stroll with Horticulturalist Deborah Whigham, sip iced tea, nibble on tasty snacks & take home helpful gardening tips & tricks!
Current Staff's Favorite Plant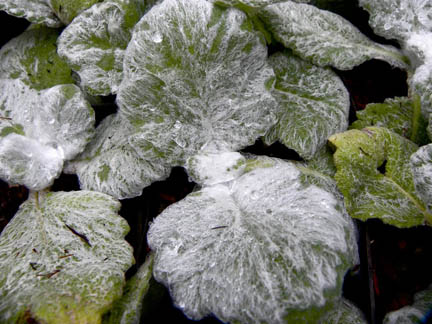 Customer Comment:
"I received my order yesterday, and I wanted you to know that everything looks wonderful. All the plants were a good size and healthy. I really appreciate that you sent it so quickly and that you have everything in stock that I was looking for. I will definitely order from you folks again."
~Debbie in Ohio
view Digging Dog's comments with Dave's Garden (The Garden Watchdog)